WWE: Matt Hardy and his brother Jeff reveal what they plan to do when Hardy Boyz split
Matt and Jeff returned at WrestleMania 33.
Matt and Jeff Hardy are back in the WWE as the Hardy Boyz. The brothers have become the Raw tag team champions since returning to the company, where it all started for them almost seven years ago.
Although the tag team duo have revived their past characters, they have individual goals they want to achieve in the squared circle.
Matt and Jeff, in an interview with SPORTBible, revealed what they intend to do when the Hardy Boyz break up. When asked if they were looking at feuding with each other or having a singles run, the brothers said the first option was unlikely to happen, while having solo runs was inevitable.
"I think the brotherly feuding might be over, I don't think people really want to see us fight each other.....but it's inevitable that we'll go do our solo things before we're done..." Jeff said, according to SportsKeeda.
Matt then explained why he and Jeff returned as a tag team.
"I think right now our goal, especially starting, coming back, being re-introduced to the WWE Universe after being away for a substantial amount of time, really was to be a tag team," he said.
He also said there was always a chance of having a solo run as they both have strong singles characters.
"I think down the road there will be potential for both of us doing our own things; we're both strong singles personalities in many ways, and I think as performers we've grown as we've got older, we've got smarter."
The Hardy Boyz won the Raw Tag Team Championship at WrestleMania 33 by defeating Enzo and Big Cass, The Club, and Sheamus and Cesaro in a triple threat ladder match. Currently, the bothers, and Sheamus and Cesaro are feuding over the Raw Tag Team Championship. The brothers will be defending their title against Sheamus and Cesaro at Extreme Rules.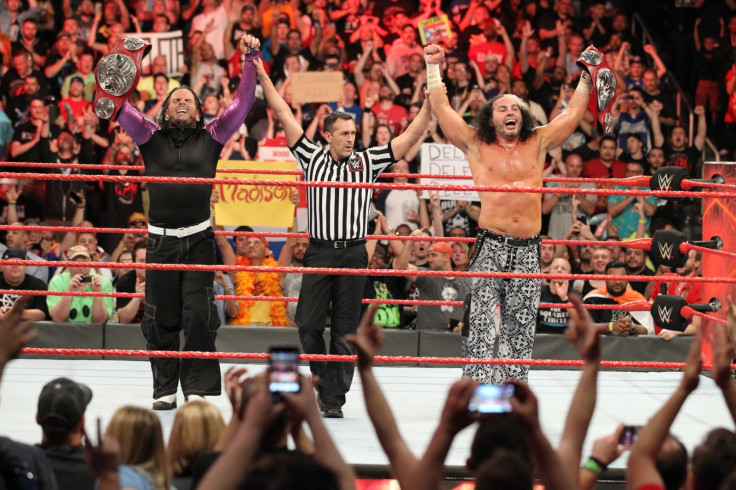 © Copyright IBTimes 2023. All rights reserved.