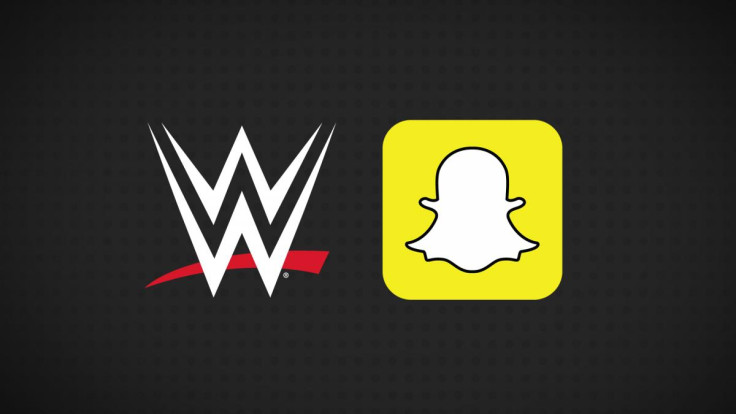 Wrestling powerhouse WWE has entered a multi-year partnership with Snapchat, kicking off with footage from the sports entertainment company's biggest event — WrestleMania. WWE will broadcast a Snapchat Live Story from the event featuring video footage and photos from fans attending the event, in-ring action and grand superstar entrances in addition to behind-the-scene clips.
"We are thrilled to partner with Snapchat and provide our fans with a new way to experience WrestleMania," Jayar Donlan, WWE senior vice president, Digital & Social Content, said in a statement. "The Snapchat Live Story allows WWE fans to share their stories from our annual pop culture extravaganza and dive into the live action of WrestleMania in more ways, and from more perspectives, than ever before."
The Live Story will probably also feature advertising from Snickers, WWE's first-ever Snapchat Live Story brand partner and the official presenting partner of WrestleMania. Other WWE events will also be covered via Snapchat Live Stories throughout the year.
"By partnering with WWE for our coverage of WrestleMania and future events, we are able to bring Snapchatters and WWE fans new and old even closer to the action and behind-the-scenes of some of the biggest events in sports and entertainment," said Ben Schwerin, director of partnerships at Snapchat.
Despite its mostly injured roster this year, WrestleMania 32 is expected to break attendance records with 100,000 fans packed into AT&T Stadium. An estimated 1.5 to 2 million people are expected to watch the event live on Pay-Per-View and WWE's streaming platform, the WWE Network. One of the main attractions will be nine-time WWE World Heavyweight Champion Triple H defending his belt against challenger Roman Reigns. The company, which has been struggling to grow the WWE Network, will hope to tap into the social media network's global audience of almost 100 million daily active users.
As the go-to platform for most major events, holidays and special occasions, the announcement also falls in line with Snapchat's recent trend to tie-up with sports and media companies keen to reach the popular app's youth audience. In March, Snapchat inked a two-year deal with Turner Sports to create "Live Stories" around sports events including March Madness basketball, Major League Baseball, boxing and professional golf.
WWE WrestleMania 32 will take place on April 3 at the AT&T Stadium in Arlington, Texas, USA. The Kickoff Show will begin at 7pm EST/4pm PST.