Redeeming herself with her last two performances, Tamera Foster gracefully bowed out of The X Factor, after receiving the fewest votes from the public.
The singer caused controversy after she failed to remember the lyrics to her songs on successive occasions, and yet continued to be voted through.
After performing the Rihanna track We Found Love and Roberta Flack's First Time Ever I Saw Your Face on yesterday's (November 30) show, without a fault, and winning praise from the judges, the 16-year-old singer found herself face-to-face with crowd favourite Luke Friend in an impassioned sing-off.
While mentor Nicole Scherzinger praised her for "a stunning performance," Louis Walsh backed his act vehemently. Commenting on Friend's powerful rendition of Snow Patrol's Run, he said: "Luke you absolutely won the sing off. You are easily the best person in the competition and you should not be in the bottom two. It's wrong."
With the casting vote in Gary Barlow's hands, the Take That star bailed out, handing the final decision over to the public vote, saying: "Luke you had one of the best weeks last week and Tamera you came back strong. I'm putting it to deadlock."
Showing grace in defeat, the stunning student said: "I just want to thank you for this opportunity. I couldn't have asked for anything more Just unbelievable."
With Barlow describing her potential as a future pop star "stratospheric," on losing her remaining act in the competition, Scherzinger reiterated the sentiment saying: "Look into the future five years and she is going to be the most successful star to come out of the show."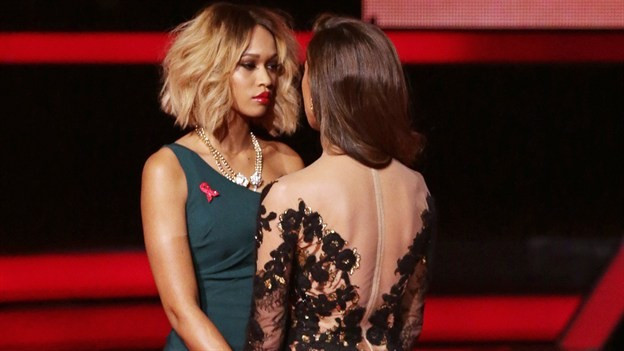 The 35-year-old star was winning judge last year when James Arthur was voted The X Factor winner 2013.
Never one to lose out in the sartorial stakes, the Hawaiian beauty brought A-list glamour to the show, wearing a plunging, black, sheer, lace gown, slashed to the sides, and showing off her flawless figure to full effect.
With Luke Friend, Rough Copy, Nicholas MacDonald and Sam Bailey remaining, the mother of two is the bookies favourite to win the show.
The show featured performances from former X Factor contestant Rebecca Ferguson and a controversial appearance by last year's winner, James Arthur.
Watch The X Factor Semi-FInals at 8pm on Saturday 7 December on ITV1.