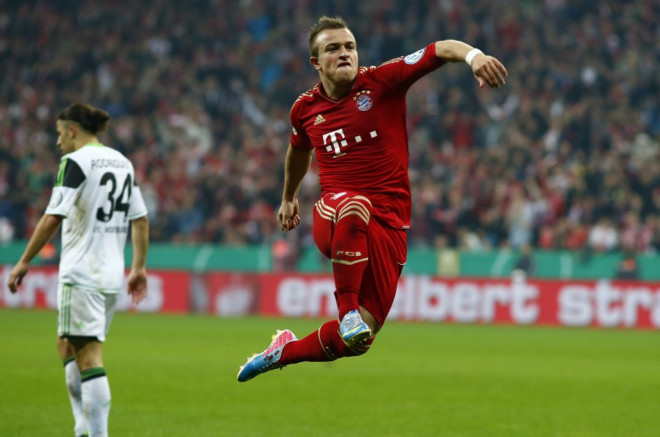 Bayern Munich winger Xherdan Shaqiri has denied he is looking to leave the club this summer following comments attributed to his brother and agent suggesting he would be interested in a move to Manchester United or Liverpool.
Having been unable to nail down a consistent first team role amongst Bayern's wealth of attacking options, Erdin Shaqiri, who handles his brother's affairs, revealed the winger would be keen to listen to offers from the Premier League duo this summer.
But the Swiss international has insisted he has no desire to leave the Allianz Arena any time soon.
"I never said that I want to leave Bayern Munich," Shaqiri told Sport1, Goal.com report. "I am feeling very well here and I am not thinking about leaving.
"My brother just gave his opinion, although he was also slightly misquoted. Of course, if a major club were to make a move, you consider it, any player would do the same.
Bayern manager Pep Guardiola recently indicated that Shaqiri is his "most important substitute" at the club, a label that may not satisfy the Switzerland international for much longer.
The midfielder faces considerable competition for a first team role from the likes of Arjen Robben, Franck Ribery, Toni Kroos, Mario Gotze and Thomas Muller and made find a future offer of a consistent first team role too good to turn down.
The former Basel starlet has made 15 Bundesliga appearances this season , only eight of which have been from the start.
Shaqiri initially sparked interest earlier in the month when he revealed his admiration for the Premier League and Serie A, with Inter reportedly looking to add the midfielder to their summer overhaul.
"I cannot say anything to this. I am feeling good in Munich but as a player you have to listen, if one of these clubs top clubs is interested," Shaqiri said.
"I hear the interest from Borussia Monchengladbach for the first time. You have to ask Gladbach. I cannot say anything.
"Bundesliga is the best league for me, but I also like the Premier League and Serie A. In Serie A many teams have developed well with nice players."