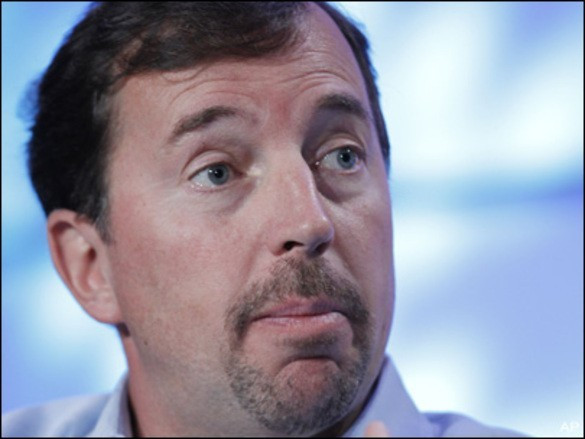 Yahoo CEO Scott Thompson told the board that he has thyroid cancer, before stepping down from his role at the internet giant amid a week-long scandal surrounding a bogus computer science degree on his company biography.
Hours after Yahoo announced his resignation with immediate effect, the Wall Street Journal reported that Thompson, 54, disclosed to the board of directors and colleagues late last week that he has thyroid cancer, citing people "familiar with the matter."
Stepping down ends what has been a dramatic week for the former PayPal president, who issued an apologetic email to Yahoo staff last week after it was revealed by activist investor Daniel Loeb and his hedge fund Third Point that Thompson does not have a computer science degree, as claimed in his CV.
Thompson actually holds a degree in accounting and will step down imminently, to be replaced on an interim basis by Yahoo's global media head Ross Levinsohn.
Yahoo said in a statement released on 13 May: "The board of directors has named Fred Amoroso as Chairmen of the Board of Directors and Ross Levinsohn as interim Chief Executive Officer, effective immediately."
Yahoo added: "The company also announced that its board has reached an agreement with Third Point LLC to settle its pending proxy contest related to the company's 2012 annual meeting of shareholders.
"Mr Amoroso replaces Roy Bostock, who has stepped down from his role as non-executive chairman in order to accelerate the leadership transition for the new board. Mr Levinsohn replaces Scott Thompson, former Chief Executive Officer, who has left the company.
"As interim CEO, Mr Levinsohn will manage the company's day-to-day operations with assistance from Yahoo's exisiting senior leadership team."
The new Yahoo directors will be media exec Michael Wolf and turnaround specialist Harry Wilson. Loeb's fourth selection - former NBC head Jeff Zucker - will withdraw.
After the scandal broke on 3 May, Thompson remained quiet, before finally emailing Yahoo staff worldwide on 8 May, acknowledging the situation, but not explicitly apologising for the factual error on his CV and company biography.
Thompson said in the email, as confirmed to IBTimes UK by an anonymous source at Yahoo: "I want you to know how deeply I regret how this issue has affected the company and all of you."
"We have all been working very hard to move the company forward and this has had the opposite effect. For that, I take full responsibility, and I want to apologize to you," Thompson continued in the memo to Yahoo staff.
The apology came on Monday evening, just hours after Third Point announced that it had begun under Delaware law (where Yahoo is based) the process of obtaining books and records relating to Thompson and the board's vetting process.
Loeb said in his most recent letter to the company: "We believe that this internal investigation by this board must not be conducted behind a veil of secrecy and shareholders deserve total transparency."
Thompson also referenced the investigation in his memo to staff: "I know the board plans to conduct the review thoroughly and independently, and I respect that process. I am hopeful that this matter will be concluded promptly."
Thompson was hired as chief operating officer by Yahoo in January, just five months after Carol Bartz was fired. Levinsohn now becomes the fifth CEO at Yahoo is as many years, as the company struggles to keep pace with Google and Facebook.
Under Delaware law and as a shareholder, Loeb is allowed to inspect Yahoo's books so long as he has a proper purpose and meets procedural requirements.