Researchers at Yahoo have developed a GPS algorithm that allows users to choose a route between two points based on beauty rather than the time or distance it takes.
The Shortest Path to Happiness study carried out by Yahoo Labs in collaboration with the University of Torino in Italy sought to offer "emotionally pleasant" routes using data from a crowd-sourcing platform.
In order to determine the most "beautiful, quiet, and happy" journeys researchers used UrbanGems, a website that asks users to pick between photos of areas in London and Boston that they found to be the most aesthetically pleasing.
Taking the results of votes from more than 3,300 individuals looking through more than 5 million pictures on Flickr of the two cities, the mapping algorithm translated the quantitative measures into alternative route options that disregarded traditional factors like time or distance.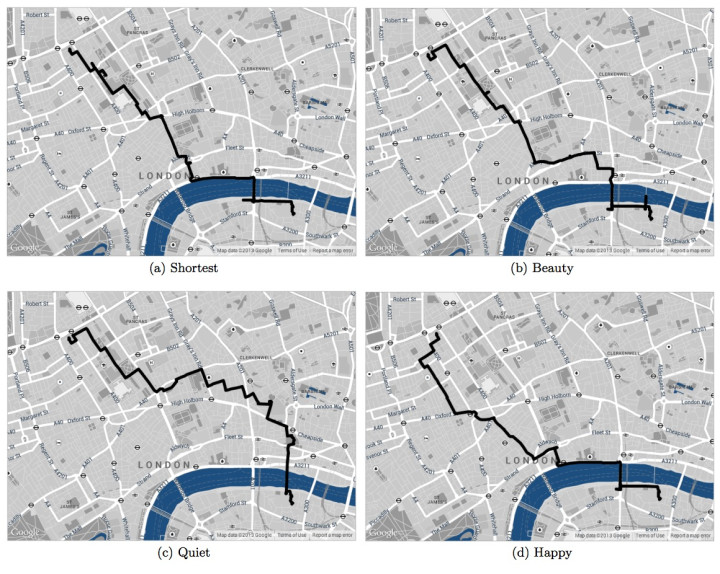 "Based on a quantitative validation, we find that, compared to the shortest routes, the recommended ones add just a few extra walking minutes and are indeed perceived to be more beautiful, quiet, and happy," the study reads.
"Web and mobile mapping services currently fail to offer that experience as they are able to recommend only shortest routes."
The Yahoo study offers a stark alternative to the distance calculating feature recently released by Google. The latest update to the search-engine giant's Maps service allows users to accurately measure the distance between two or more locations.
In the future, Yahoo researchers hope to apply this feature to other cities without crowd-sourced ratings by using Flickr metadata.
The study concludes: "We will build upon the analysis presented here by designing a mobile application and testing it in the wild across different cities in Europe and USA.
Yahoo has yet to announce when or if it will use this new mapping algorithm in any of its products, though the research does mention the potential use in an app in the future.