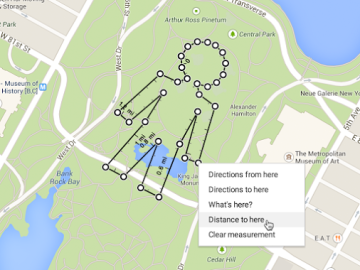 Internet giant Google has released a new update to its Maps service which now lets users measure and accurately calculate distance between two or more locations.
The new feature is applicable to desktop users.
Google Maps' latest feature now makes it easier for people to plan journeys in advance. The new enhancement is 'all terrain', and is not restricted to roads/streets alone.
Google Maps users on the desktop should also be able to measure distance between multiple points, by calculating the distance on multiple routes.
'Distance Calculator' can be accessed with a right-click on the starting point. However, the operation varies depending on whether the 'New' or 'Classic' version of Google Maps is used.
For people using Classic Google Maps
To turn on distance measurement tool:
Launch 'Classic Google Maps'
Click the Maps Labs link at the bottom of the left-hand panel
Select Enable button next to "Distance Measurement Tool"
Select Save all Changes.
To measure distance between locations in Classic Google Maps
Launch Classic Google Maps
Select the ruler icon present at the lower left-hand corner of the map
Click the starting point on the map. Click to add additional measuring locations
A red path will appear on the map between the two points, and the distance will be displayed in the left hand side panel
For people using 'New Google Maps'
Launch New Google Maps
Right click on the starting location point
Select Measure distance
Click anywhere on the Google map to create path that needs to be measured. Click to include multiple measuring points
Total distance is displayed under the search box, in the map.
Google is also set to roll out the latest functionality for Android smartphone users, with which media controls can be handled via new Google Now voice commands.