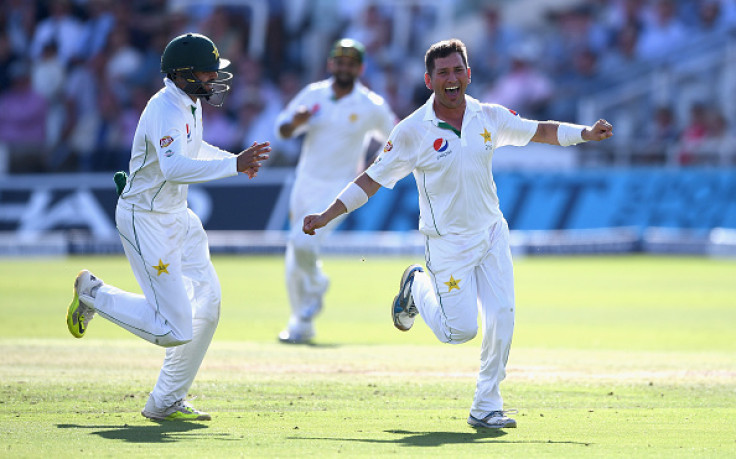 Pakistan leg-spinner Yasir Shah has dethroned England pacer James Anderson to become the number-one ranked bowler in the world. His rise in the ICC Test rankings list is due to a match-winning performance against England in the first Test at Lords where he picked up 10 wickets giving away 141 runs.
Shah becomes the first Pakistan bowler since Mushtaq Ahmed, who 1996 achieved the feat and notched the top spot in Test rankings. As far as leg spinners are concerned, prior to Shah, it was Shane Warne who had claimed the spot in 2005.
The 30-year-old was ranked fourth as he came into this Test in the bowler's section, but his compelling figures helped him score 32 points to leapfrog India spinner R Ashwin and England duo James Anderson and Stuart Broad to the top spot.
The leg-spinner has now taken 86 wickets from 13 Tests he has played so far – the most by any bowler after that many games and stands a chance of breaking George Lohmann's 120-year-old record of becoming the fastest to pocket 100 Test wickets. Lohmann who played for England, set the record when he reached the mark in 16 matches in 1896.
Shah was honoured with the player of the match in his first Test outside Asia and now leads Ashwin by seven points and third place Anderson by 10 points. With three more Tests to go in the series, he will look too add to this tally and ensure he remains at the top spot.
ICC's top 10 Test bowlers include:
1) Yasir Shah (Pakistan)- 878 points
2) R Ashwin (India)- 871 points
3) James Anderson (England)- 868 points
4) Stuart Broad (England)- 859 points
5) Dale Steyn (South Africa)- 841 points
6) Ravindra Jadeja (India)- 789 points
7) Trent Boult (New Zealand)- 757 points
8) Josh Hazelwood (Australia)- 741 points
9) Morne Morkel (South Africa)- 724 points
10) Vernon Philander (South Africa)- 717 points