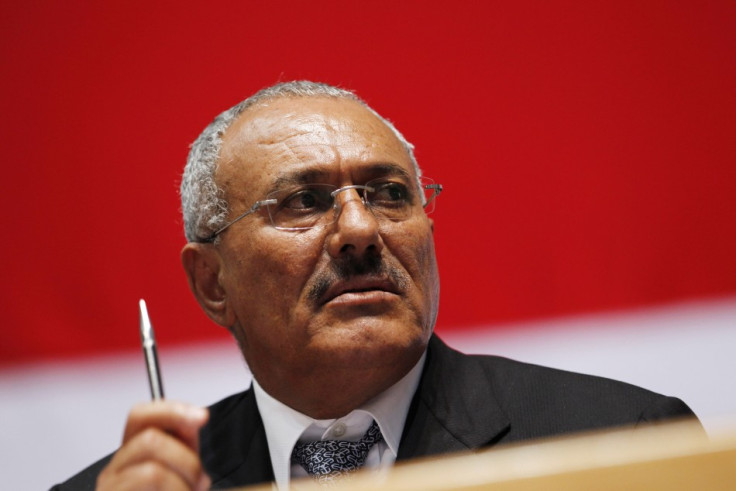 Yemeni President Ali Abdullah Saleh has arrived in Saudi Arabia for urgent medical treatment, after he was injured in an attack on his compound on Friday, the Saudi royal court said in a statement early Sunday.
Abd-Rabbu Mansour Hadi, the Yemeni Prime Minister is now the acting president and is expected to meet with members of the military.
Soon after the announcement that the president had fled the country, protesters gathered to celebrate the departure of Mr. Saleh in the streets of Sanaa.
However as streets celebrations were taking place calm had not yet returned to the streets in the country as according to Reuters heavy gunfire and explosions were heard in the Yemeni capital on Sunday in the Hasaba district, a focal point of fighting in recent weeks between Saleh's forces and members of the powerful Hashed tribe led by Sadeq al-Ahmar.
According to the Saudi royal court statement, if King Abdullah bin Abdulaziz of Saudi Arabia first sent a specialized medical team to Sanaa on Saturday to conduct medical tests on Saleh and other officials and citizens who have suffered injuries as a result of different events that took place recently, it was at the request of the Yemeni president.
Saleh, his prime minister, two deputy prime ministers and the speakers of both parliamentary chambers were injured when a rocket slammed into a mosque inside his presidential compound on Friday. Eleven guards died in the attack. According to Saudi authorities it is the medical team who recommended that the president and his officials be taken to Saudi Arabia to complete their treatment.
Commentating on the situation, Saudi Arabia called "on all parties to exercise restraint and use reason" to keep the country from "sliding into more violence and fighting".
Saleh arrived at King Khalid Air Base in Riyadh on Saturday at midnight and is said to have been transferred to a military hospital.
The president, whose Saudi medical evacuation plane was met by a senior Saudi official, walked off the aircraft, however it was reported that he had had visible injuries on his neck, head and face.
The extent of Saleh's injuries has been a matter of intense speculation, with Yemen's Deputy Information Minister Abdu Al-Janadi saying just before Saleh exited the country that the president was in good condition and "there is no reason to transfer him outside the country."
He told Al-Jazeera that bandages on Saleh's head for burns and scrapes prevented him from appearing on television as government officials had promised Friday night after the attack.
But other reports quickly emerged and sources close to Saleh were quoted by the BBC as saying the attack had left the president with a 7.6-cm long piece of shrapnel under his heart and second-degree burns to his chest and face.
Fighting between rebellious tribesmen and government forces has left more than 160 people dead over the last two weeks. Countering reports that he was killed in the attack on Friday, the president delivered an audio address hours later, with only an old photo shown on TV. His failure to appear in public despite repeated promises raised speculation that his injuries were more severe than first acknowledged.
Sheikh Mohammed Nagi al-Shayef, a tribal ally, said he met the president Saturday evening at the Defense Ministry compound in the capital.
"He suffered burns, but they were not serious. He was burned on both hands, his face and head," al-Shayef told The Associated Press. He said Saleh also was hit by jagged pieces of wood that splinters from the mosque pulpit. About 200 people were in the mosque when the rocket landed.
While the real state of health of the president has led to much confusion and speculation, the choice of his destination was however far less surprising. Indeed the oil-rich Saudi kingdom has provided safe haven for a long list of dictators throughout the years and in the recent Arab Spring.
Ugandan President Idi Amin spent his final days in Jeddah where he lived in almost total obscurity. Officially, very little was known about his life, the number of his children and family accompanying him, and his sources of income.
However, according to Jeddah residents Amin lived in a villa rented for him by the government of Saudi Arabia in the posh Al-Hamra district overlooking the Red Sea.
Treating him under political asylum rules, the Riyadh government was paying him an undisclosed amount as a monthly stipend, while a number of his children worked in ordinary jobs in the kingdom.
More recently, Saudi Arabia welcomed Tunisia's deposed leader, Zine El Abidine Ben Ali, who is also in Jeddah.
At the time of his arrival, a palace statement carried by the official SPA news agency, said the move was "out of concern for the exceptional circumstances facing the brotherly Tunisian people and in support of the security and stability of their country" and they insisted that Ben Ali will not be able to pursue his political career while still on their soil.
Commentating on the situation political analyst Mustafa Alani, research director at the Gulf Research Centre, a Dubai think-tank, explained that by taking him in, the Saudis wanted to 'defuse' the tensions on the streets of Tunisia. It was certainly "not out of sympathy" for Ben Ali, he added.
It is likely that Saudi Arabia will give the same line for the Yemeni president as it gave for its previous guestlist of deposted dictators, that the country is welcoming Saleh first and foremost to prevent Yemsen from falling into civil way and to protect its people.
However as Ben Ali is now facing 18 charges, including manslaughter and drug trafficking, will the Saudi authorities who pretended that they acted out of concern for the Tunisian people release him? And what will happen with Saleh, will he return to his country or prefer to hang out with his Tunisian counter-part and enjoy his early retirement in a luxurious environment courtesy of the Saudi court?