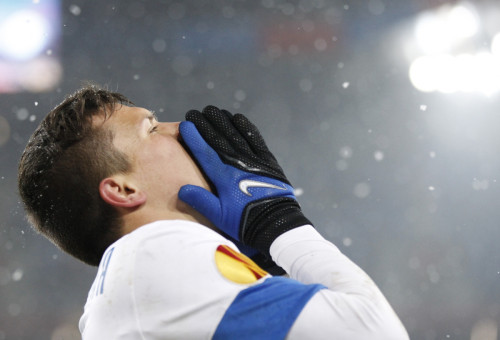 Profile:
Yevhen Konoplyanka is a 24 year old Ukrainian international who currently plays for Dnipro Dnipropetrovsk.
A late developer having only been promoted to the Dnipro reserves in 2006, Konoplyanka is among a core of exciting young players to have emerged from the shadow of Andriy Shevchenko in Ukraine.
Only since his international debut in 2010 has the Kirovohrad-born wideman been recognised as a talent in European football but coming from the Ukrainian Premier League possesses the attribute of being a largely unknown quantity, a trait which England found to their detriment during World Cup qualifying.
Style:
Following the recent trend of being primarily a right-footer but operating from the left, Konplyanka isn't afraid to drift either inside or out and can both beat a player with his pace and trickery or cross with either foot. A willing runner and unwilling to shirk from defensive responsibilities.
Strengths:
Konoplyanka is blessed with the required attributes to be a star in the Premier League. Instant and close control and pace to burn make him a nightmare for opposing full-backs, while his positioning and working rate make him a valuable asset in his own third. His small frame makes him a slippery customer while as an accomplished passer he could adapt immediately to Brendan Rodgers' philosophy.
Weaknesses:
Jesus Navas may claim otherwise but the physicality of the Premier League makes Konoplyanka a sitting duck for aggressive minded full-backs. Though comfortable on his left foot, his tendency to come inside is monotonous and predictable at times while the range of his passing is limited. He must improve his vision to be accommodated alongside Daniel Sturridge and Luis Suarez.
Who has he been compared to?
With Liverpool only forced to delve into the market due to Mohamed Salah choosing Chelsea over Merseyside, it comes as no surprise that comparisons can be drawn between Konoplyanka and the Swiss winger. His use of both feet and versatility has also seen comparisons with Chelsea's Eden Hazard.
What the experts say:
Ukraine national team coach Mikhail Fomeko:
"All of my players are valuable but Yarmolenko is without doubt worth his weight in gold. He's a true fighter, who can boost his teammates' morale and his presence in the team is very important. Yarmolenko is a true talent and one of our team's undisputed leaders."