YPlan is an iPhone application offering exclusively discounted rates for London events taking place in the next 48 hours; we visited their Kings Cross offices to find out more and what the future holds.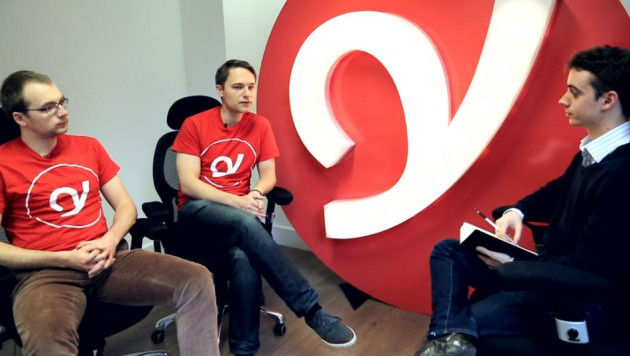 When Lithuanian friends Rytis Vitkauskas and Viktoras Jucikas packed in their comfortable jobs at Merrill Lynch and Goldman Sachs to go fishing and come up with 'an idea' their colleagues called them crazy.
But after a few months of angling and head-scratching they came up with an iPhone app which they believe to be truly unique and will soon become a billion-dollar business.
The attraction of YPlan is its simplicity; serving up around ten suggestions of things to do in your city over the next two days with links to exclusively discounted rates and a built-in payment and ticketing system.
Simple
Chief executive Vitkauskas explained: "YPlan is a last-minute going out app. We curate and provide our audience with a shortlist of great events happening in London in the next 48 hours. If you want to do something cool today or tomorrow, YPlan is the place you go to."
YPlan is what we've come to expect from the capital's booming tech start-up scene. As Daft Punk plays on endless repeat, a well-used ping pong table is around the corner, and employees enjoy an almost flat structure where the student intern can offer as much to the company's future as the CEO.
Chief technical officer Jucikas continues to explain the app: "You don't need to print out any paper tickets, you don't need to call anyone to reserve. The ticket shows up on the app, you go to the venue, show them your iPhone and they let you in."
Formed just five months ago, YPlan has already expanded from two to 20 employees and is now used by 10% of all iPhone owners in London, amounting to some 200,000 active users - and with iPad and Android apps both in the works, this number is only going one way.
Investors saw this potential early on, with £1.06m coming from Wellington Partners and Octopus Investments, whose previous investments include Spotify, Graze.com and property website Zoopla, just a month after YPlan was formed.
Goldman Sachs to Tech City
You won't find anyone wearing a suit and tie in YPlan's office and it's like that on purpose, as is the inclusion of nerf guns, huge speakers, DJ decks and a church organ.
Formerly an executive director at Goldman Sachs, Jucikas explained: "I'm coming from a very corporate background having spent six years in the city...so I know what the culture is in such a big corporation, and that's exactly what we tried to not do at YPlan."
Vitkauskas chipped in: "Those were the decisions that we made initially. We said it has to be a fun place, it has to be a place where people just come and they don't have to think about anything related to politics or stuff that's not immediately relevant to them and doing their job."
Starting at the shared Tech Hub office space in London's Tech City, YPlan soon outgrew the space and moved to larger offices close to Kings Cross station, but it insists it's "still on the doorstep of Shoreditch."
Addressing Tech City, the CEO said the scheme is a "very deliberate effort from the Government's perspective, to add top-notch individuals from tech companies, key influencers, to get them all together...London is a great place for the startup ecosystem generally; it does need to be supported a little bit, we do need more success stories, we do need everybody to chip in if this is to become a real hub for technology companies like Silicon Valley is."
Eclectic
The eclectic and relaxed atmosphere of the YPlan office is reflected in the mix of offers available in the app, with everything from comedy and music gigs to wine tasting, theatre and even chess boxing on offer. All events are hand-picked from around 500 event partners by YPlan staff and the idea is not to bombard users with a list of everything to do, but to offer a small sample to those who want to try something new.
Trying something new is part of YPlan's uniqueness. The CEO explained: "We work with promoters, produces, venues, and what we've found is that people who buy on YPlan and come to those events would otherwise not have come at all. We survey our customers, the bookers, and found that 90% of bookers had no intention of going to the event before discovering it on YPlan and completing the booking."
And the benefits go both ways: "If you're organising an event and it's picked for YPlan then there's going to be tens of thousands of people on any given day looking at that event, being exposed to it and learning about your brand and what you're doing."
Billion-dollar company
As for the future, the young duo don't mince their words. "We firmly believe YPlan is a billion dollar company in the making," Vitkauskas said without hesitation.
"Some of the trends we see and some of the numbers we see from our early growth - the user engagement and conversions and everything - we see there is a big future for YPlan."
The long term plan sees YPlan on iPhone, iPad, Android, Windows Phone and others, and branching out to cities in the US and beyond.
"In the next three to five years YPlan will have become the what-am-I-going-to-do-tonight app globally. That is the objective."