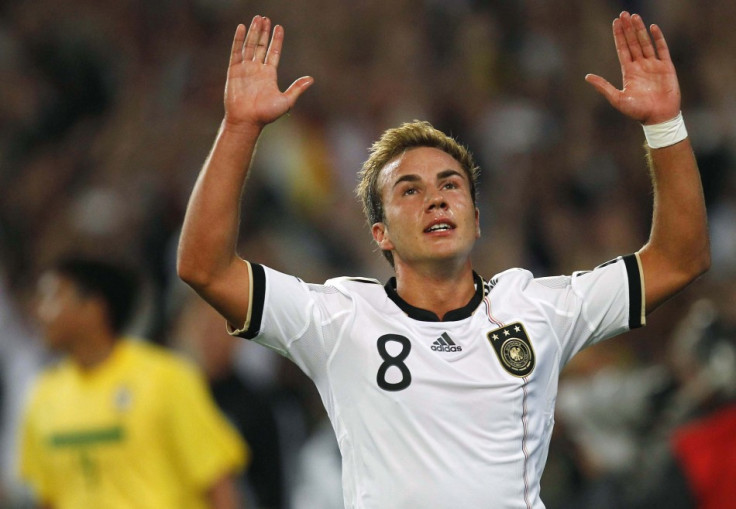 The International Business Times can exclusively reveal that Borussia Dortmund sensation Mario Götze is ready to snub rumoured interest from Arsenal and Manchester United by remaining in the Bundesliga.
Sir Alex Ferguson and Arsene Wenger have been perpetually linked with the prodigiously gifted 19-year-old over the last 12-months, but a source close to the Borussia Dortmund talisman has told The International Business Times, that Germany's rising star is committed to his club and has no intention of leaving the Bundesliga in January.
"There is no chance of him leaving in the winter. Zero per cent." The source, who asked to remain nameless, told The International Business Times.
"There is so much written in the press but there has been no communication with Mario.
"He knows about the interest and he will always be in demand, but it is good to respect the wishes of Dortmund.
"He is very comfortable at the club and just wants to enjoy his time at Dortmund."
On Friday, Arsenal were widely reported to be preparing a club record £20 million bid for the attacking midfielder in January, having had the youngster intensely monitored, alongside Borussia Monchengladbach forward Marco Reus, by Wenger's chief scout Steve Rowley. The report, which appeared in the Daily Mail, claims the diminutive German international impressed against the north London Premier League side in the Champions League, and Arsene Wenger had subsequently identified Götze as one of the most creatively talented players in Europe.
In addition to the Frenchman, who lost both Cesc Fabregas and Samir Nasri in the summer to Barcelona and Manchester City respectively, Manchester United boss Sir Alex Ferguson has been looking to address his own club's perceived weakness in midfield and Götze is one of his alleged targets along with Inter Milan star Wesley Sneijder.
Whilst the source close to Götze was eager to stress that no formal offers had been received and neither would they be welcome so close to next summer's European Championships, he suggested the young playmaker had plenty of suitors, and not just from the aforementioned sides from the Premier League.
Götze's stock has risen immeasurably since his starring role in Borussia Dortmund's successful Bundesliga winning campaign last season. Alongside Japanese international Shinji Kagawa, the fledgling German international was the architect of his side's first league title in a decade and he has successfully transferred that form onto the international stage.
In August, Götze's reputation as one of Europe's top young talents was confirmed after he inspired Germany to a memorable 3-2 victory over Brazil. The mercurially gifted 19-year-old's performance was witnessed by an audience which included a number of scouts from some of the world's elite clubs, including Real Madrid, Barcelona and Inter Milan.
Despite his rising stock on the continent, Götze recently reiterated his desire to remain at Borussia Dortmund for the forseable future.
"I am really happy here," he told Sky Sports. "That is all that counts. I have a contract here until 2014 and I am more than happy.
"I think you can see that too and that is why I am happy to be here.
"We have so many amazing players in our side who try to push themselves to the limits in every training session and every game."