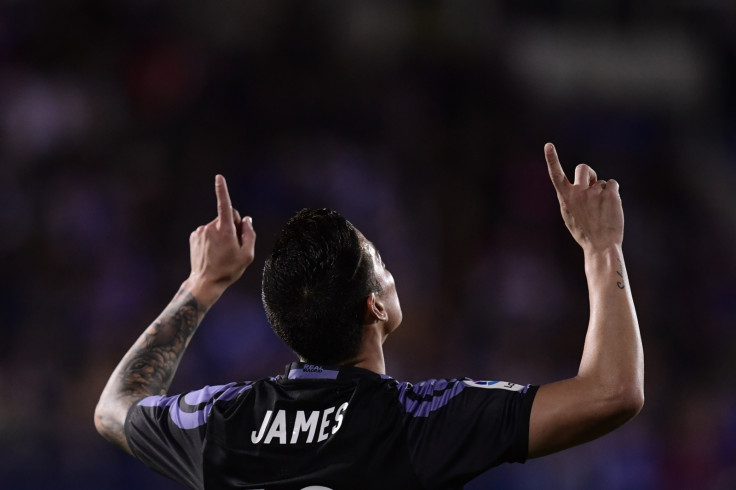 Real Madrid manager Zinedine Zidane has played down James Rodriguez's rage at being replaced during his side 4-2 win over Leganes, which comes amid suggestions he will leave the club at the end of the season. Liverpool, Chelsea and Manchester United have all been linked with his services in recent weeks.
James' future in La Liga giants has been under scrutiny in recent times. During the January transfer window the 25-year-old confirmed that he was considering an exit due to his lack of playing time.
The former Monaco star eventually opted to stay at Real Madrid, but rumours have resurfaced in recent weeks. The player has only started seven La Liga games this campaign.
Chelsea and Manchester United are said to be monitoring the situation, while last month The Mirror reported that Liverpool are also confident in bringing him to Anfield if they secure Champions League football, in a deal worth around €75m (£64m, $80m).
Spanish football expert Guillem Balague backed those claims earlier this week but suggested Liverpool could face competition from Chelsea, United and a number of Serie A clubs.
James opened the scoring against Leganes, but reacted poorly to being replaced by Isco in the second half. He refused to shake hands with Zidane, before punching the dugout in anger.
Both fans and media took the outburst to signify James had take a new step towards the exit door at the Santiago Bernabeu.
However, Zidane said: "It's to be expected that he gets angry because they all want to play a full game. These things happen and what I take away with me is his performance because he played very well. I haven't got anything against James, quite the opposite. I bring him off a lot, but that's because he's an attacking player and he works very hard. That happens at lot to the players who play up top, like Karim [Benzema].
"It's normal for him to get angry because I brought him off, but there's nothing more to it. I try to do what's good for the team. He's important to me, to the team and to everyone".
Meanwhile, Zidane expressed his delight at a victory that keeps Real Madrid top of the table, two points ahead of Barcelona with a game in hand.