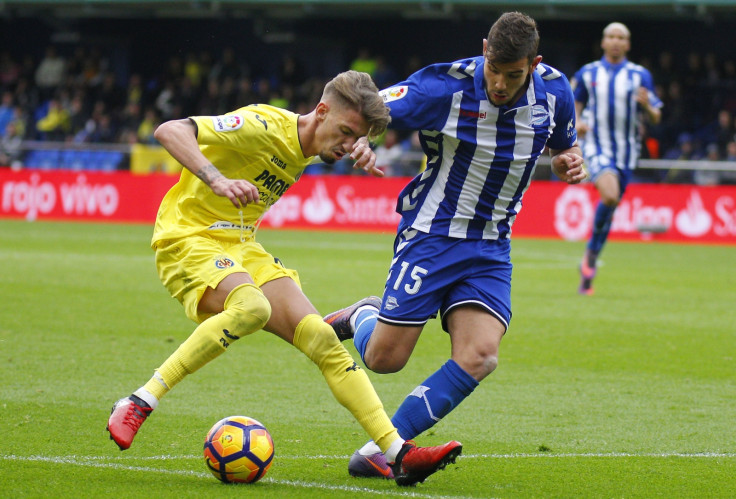 Real Madrid are reportedly leading the race to secure Theo Hernandez' services but the likes of Barcelona, Liverpool and Bayern Munich may not have had the last word in that chase.
Cadena Ser has said that the Atletico Madrid left back is keen on moving to the Santiago Bernabeu – and Zinedine Zidane also wants the player – but completing the deal may not be so straightforward due to the relationship between the two Madrid clubs.
Theo, 19, is considered one of the next big things to emerge from the Atletico academy and, in summer 2016, Los Colchoneros appeared to secure his long-term future by handing him a new deal until 2021 – setting his release clause at €24m (£20.5m, $25.6m).
But his future at Atletico came under scrutiny in recent weeks. In March, Cadena Ser broke that Barcelona, Bayern Munich, Manchester City, Liverpool, Marseille and, notably, Real Madrid had been watching his development following an impressive loan spell at Alaves.
Marca reported a massive breakthrough in the saga earlier this week, revealing that Zidane's side are eventually ready to pay his clause in order to lure him to Santiago Bernabeu – with the player agreeing to make the shock move to Atletico neighbours.
However, Cadena Ser and other Spanish publications are now suggesting the deal is not yet complete as Real Madrid don't want to damage his relationship with Atletico Madrid.
The radio station says it is true Zidane's side are in pole position to secure his services, as Theo is likely to make the shock move to the Madrid rivals – and have told them to meet his clause.
However, they add that Real Madrid don't want to meet his release clause without negotiating with Atletico because that would mean breaking the gentleman's agreement between the clubs.
Nevertheless, this non-aggression pact eventually prevented La Liga giants from signing the likes of Sergio Aguero and Radamel Falcao in the past, despite Los Blancos also being interested in the players.
Cadena Ser says that Real Madrid would even be ready to pay in excess of his release clause – so as not to annoy Atletico – but the deal is still uncertain and will probably force Theo to announce, in public, that he is the one that wants to make the move.
Yet, the news is expected to spark interest from other clubs as Marca has said that Theo's agent has offers from up to five European clubs to sign. In this sense, both Cadena Ser and other publications say that Barcelona, Liverpool and Bayern are the three clubs ready to make a last-ditch effort to hijack a Real Madrid move for the France starlet.
Atletico are likely to keep Theo in his ranks but, if Theo forces his exit, they would obviously prefer him to join the likes of Barcelona and Liverpool rather than their Madrid rivals.
Zidane has since admitted his admiration in Theo,while, on Tuesday night, Diego Simeone was coy when asked about whether he believes it is true the player is ready to make a move to the city rivals.
"I spoke to Theo about a month or 20 days ago and I know what he told me and he knows what I told him," the Atletico boss said in the press conference following their 1-0 win over Real Sociedad. "I am very happy with what he is doing. I always wish the best for my players. These questions are for [sporting director] Andrea Berta and for [president] Enrique Cerezo. When the season finishes, they will tell me which players are there and which ones I can count on. [The speculation] doesn't bother me at all."
Meanwhile, Atletico captain Diego Godin sent Theo a warning message during an interview with Cadena Ser.
"No Atletico fan would like it if Theo joined Real Madrid instead of another team," Godin said. "I speak for myself, what I would do. He's just a kid and we have to give him our support. People are talking about him because he is having an incredible season."