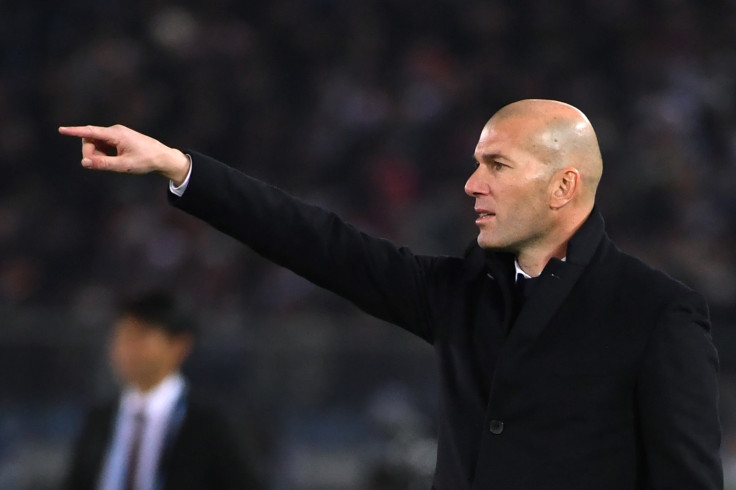 Zinedine Zidane has taken responsibility for Real Madrid's shock 3-3 draw against Las Palmas, a result that sees Barcelona move top of La Liga following their 6-1 thrashing of Sporting Gijon. The French boss refused to pin the blame on Gareth Bale, revealing that the Wales international had apologised for the red card he received half-way through the game.
Los Blancos are one point behind Barcelona with a game in hand, and last week suffered a surprising defeat to Valencia.
Bale left Real Madrid fighting with 10 men in the 47th minute after a dismissal for shoving Jonathan Viera. The Canarian and Kevin Prince-Boateng took advantage of the numerical advantage and both scored to leave Las Palmas 3-1 ahead at the Santiago Bernabeu. However, two late goals from Cristiano Ronaldo saw Real Madrid earn a fortune point.
"Bale has apologised for his sending-off. He wasn't happy. Obviously playing with 11 is better but it's part of the game that we cannot change. We have to move on. At the end of the day we cannot be content with what we're doing, but we have time to change and we'll turn it around," Zidane said in a press conference after the game.
"We can't change what happened with the penalty and sending-off. We have to analyse the negatives and focus on the positives. Going from 3-1 to 3-3 is a great effort. If only we had showed the same fight in the first half that we did in the second. We have to keep on going, there's no other way. We are all in the same boat, I am responsible and I'm certain we can get through this".
The Real Madrid boss hailed the impressive effort made by his side to secure a draw, after they made a similar comeback to beat Villarreal at the weekend.
"We'll get through this all together. We're going through a bad patch right now, particularly in terms of our first-half performance. We'll have to analyse it and think about what we can do to change things around. We put in massive effort to come back from 3-1 down to make it 3-3. We have good spirit and this side is capable of doing good things," the boss said.
"We don't have the same energy that we showed before to turn games around. Today we've let some crucial points slip, but we mustn't go crazy about it. We'll put this right by all working together. The important thing is that we didn't do what we had to do in the first half... We wanted to make sure they didn't have the ball and we failed to do that in the first period."
Real Madrid now visit Eibar on weekend and Zidane has backed his side to get back to form and beat Barcelona to the title.
"We are going to fight. It will be difficult right until the end, as I've said before and I stand by that. We are not top of the league any more but this league is always wide open. We will not give up the fight, this is a marathon, not a sprint, and we will get through this. We have to be positive," the boss added.