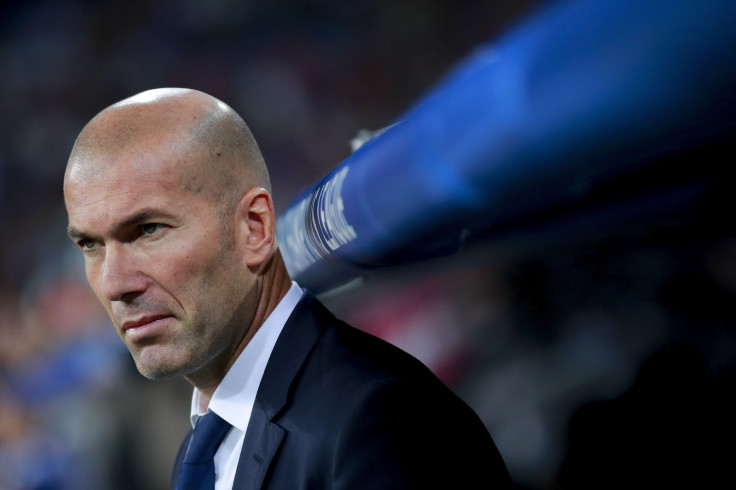 Zinedine Zidane has sent a warning to his Real Madrid players ahead of the coming La Liga trip to Sevilla on Sunday (15 January) after admitting that Los Blancos were lucky to get a 3-3 draw in their Thursday's Copa del Rey encounter with the Andalusians side. Yet, the France boss said that he is not surprised that Jorge Sampaoli's side are currently ahead of Barcelona and Atletico Madrid in the La Liga table as they are doing a great job since the summer arrival of the Argentinian tactician.
Two late goals from Sergio Ramos and Karim Benzema helped Real Madrid to secure the qualification to the Copa del Rey quarter final with a 6-3 victory on the aggregate after having won 3-0 in the first leg played at the Santiago Bernabeu. Furthermore, the draw saw Real Madrid breaking a new Spanish record of 40 games unbeaten, previously set by Barcelona under Luis Enrique in 39 between 2015 and 2016.
Zidane was happy for his side's late reaction to keep the unbeaten run, but admitted that Sevilla should have won the game as they arrived at the 82nd minute with a 3-1 advantage.
"It was a tough game, very draining. They played incredibly well and deserved more from the game in truth. After that first goal we eased off a bit and they were able to put two past us. In the end we were able to get a draw. Over the course of the two games we deserved to go through," the Real Madrid boss admitted in the press conference.
Los Blancos visit Sevilla once again on Sunday for a crucial game in the La Liga title race as Real Madrid, who have one game in hand, are currently leading the table four points ahead of the Andalusian side and have five more than Barcelona.
Zidane warned his side to expect another difficult challenge as he believes that Sevilla are consistently proving that their second-place position is not a mere "coincidence".
"We really had to soldier on against a resilient side who are fast paced, and home support who really pile the pressure on. Sunday will be yet another game where we will have to fight. That is always going to be the case against Sevilla, who are tough opposition to face," Zidane said. "It is no coincidence that they are second in LaLiga, that is all down to their own hard work. What they are doing and what they did (today). I'm not sure what is going to happen on Sunday, but we will have to dig deep."
The new encounter against Sevilla is expected to be especially ill-tempered after Ramos was abused by a number of the local fans during the Copa del Rey match. The Real Madrid captain came though the youth ranks of the Europe League winners, but his complicated relationship with the ultras of his former side worsened on Thursday night after he celebrated his Panenka penalty goal cupping his ears in front of them.
Asked about that controversy, Zidane said: "I can't be happy about that and nor can he. It is not nice when they insult you. We can't avoid it however. Sergio played his part in the game and I'm not thinking about anything else, it is an ugly thing to happen but it can't be avoided. He played here for a long time. He is from here and I'm certain he'll be hurt by that. These things can happen from time to time and neither he nor his family will be happy with that".