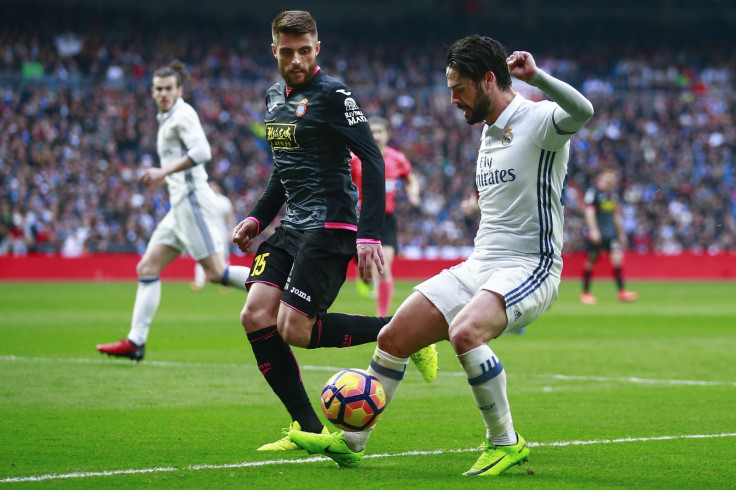 Zinedine Zidane has failed to provide clarity about Isco's uncertain future at Real Madrid amid recent reports linking the midfielder with the likes of Chelsea, Manchester City and even Barcelona. Meanwhile, the French boss hailed James Rodriguez's decision to stay at the Santiago Bernabeu but failed to confirm whether Pepe will be at the Santiago Bernabeu in the 2017-2018 campaign.
Isco, 24, admitted at the weekend that his long-term future at the Champions League winners is uncertain due to the lack of playing time.
"I am calm with my future but I am worried about having minutes," he said to beIN Sports after the victory over Espanyol. "A player's career is short, so by the end of the season I will make a decision because it is my future that is at stake."
Marca reported on Tuesday morning that the Spanish international has finally decided to leave the club at the end of the season, with City being currently in pole position to secure his services ahead of Chelsea, Juventus and Barcelona.
A potential move to Barcelona looks unlikely unless Isco waits until the end of his contract in the summer of 2018, but Zidane failed to give reassurances over his future at the club during his Tuesday's press conference.
"I think it's understandable (what Isco said) and I have no problem with it. You ask him and he replies to those questions with respect. I regard him highly and he's a player that is part of squad rotation. A player can play 25-26 games in a row and then be replaced. You could ask him and I'm sure he'd say he's not happy. He knows that I count on him and that I like him as a player. I listen to the players and there are no problems. He's very good and you know what I think of him. No player is going to be happy with his situation because he will always want to play more, but having games every three days and a big squad means I want everyone to be focused," the Real Madrid boss said in the press conference ahead of their Wednesday trip to Valencia.
"I have 24 very good players and the players know it. When you change a player it doesn't mean anything. They are all important and that's how I'll think until the end because I believe in my squad and the 24 players. We all know what we want to do together and I'll not change my ideas. I believe in my squad. "
James future at the club has also been under scrutiny since last summer due to the same reason. However, despite having been linked with Chelsea, the Colombian international said last week that he wanted to continue at Real Madrid for the long-term.
"I value positively what James is doing when he plays. He's doing well," Zidane said when asked about the former Monaco star situation. "The other day he played very well and not only does he score, but he also makes others around him play well. I'm happy because he said he wanted to stay and not leave."
Pepe is the other Real Madrid player with an uncertain future as he is out of contract at the end of the season, and recent reports claimed that he has already agreed a free-agent move to play in China.
Zidane said that the Portugal defender is still an important member of the squad but also refuse to rule out his exit.
"He's an important player and whenever he plays he does his job. That's what's important now. The contract is not my business. I'll count on him until the end," Zidane said. "There'll be matches he plays in and others when he doesn't. We have eight very good defenders and from time to time we have to leave some out of the match-day squad".
Yet, Zidane added that Real Madrid are currently focused on ending the season on a high and it's still soon to know who could leave the Santiago Bernabeu during the coming summer transfer window.
"We cannot know what's going to happen in the summer. We are focused on the competition, on the field and nothing else. We'll see what happens in the summer. It's not the important thing at the moment."