Real Madrid's new manager Zinedine Zidane has identified former Manchester United player Paul Pogba as his first Galactico signing, according to AS. The report would be a major boost for Chelsea after other sources recently suggested that the legendary France international had earmarked the signing of Eden Hazard as his top priority.
Daily Mail recently reported that Rafa Benitez's successor was ready to battle Paris Saint Germain and Bayern Munich for the signature of Hazard, having been generous in his praises for the Belgium international since his early career at Lille.
Zidane, nevertheless, said in November that Hazard was his favourite player just behind Ballon d'Or winner Lionel Messi and Cristiano Ronaldo. He said: "After Lionel Messi and Cristiano Ronaldo, Hazard is my favourite player. It is spectacular to see him play. Do I see him going to Real Madrid? I love the player, that's all I will say."
But with Ronaldo, Gareth Bale, Karim Benzema, James Rodriguez and Isco in his attacking ranks, AS reports that Zidane's priority is to bolster his midfielder with Juventus star Pogba.
The Spanish publication claims Los Blancos are ready to go head-to-head with Barcelona for his services in the summer. The Catalans have been linked with the French midfielder since last year but AS believes that Los Blancos may have an advantage over the Catalans as the Champions League winners are unable to meet Juventus' €100m (£75m, $108m) asking price for the much sought-after star.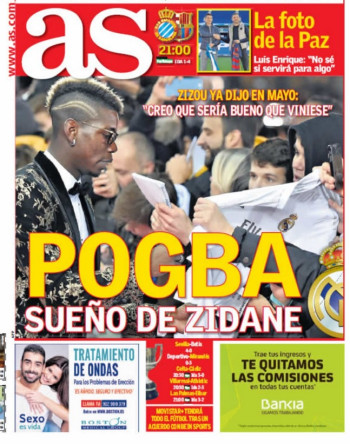 AS points out that Zidane has also publicly expressed his admiration for Pogba in the past, while the player also has the France legend as one of his childhood idols.
But there is another complicated picture for Zidane's transfer wish list since the player has never hidden his desire to play alongside Lionel Messi. Pogba was spotted signing a Barcelona shirt during the Ballon d'Or gala while admitting it would be a dream to play alongside the Argentinian international.
"He's a fantastic player, as we all know. Of course I'd love to play alongside him, like I would with all of the great players", Pogba said as quoted by AS. "I used to watch Cristiano and Messi on television and I'd choose them on the Playstation. Now I am standing next to them in the team of the year but my objective is to get to the same level as them, or be even better".