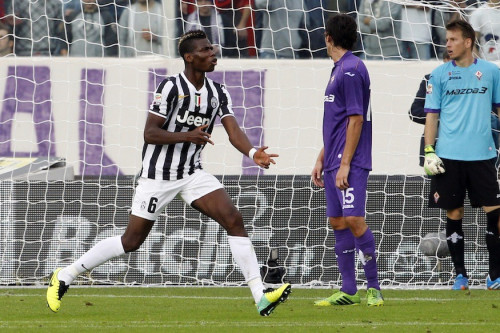 Zinedine Zidane believes that Sir Alex Ferguson has committed a major blunder by letting Paul Pogba go to Juventus during his tenure.
The sporting director of Real Madrid insists that Pogba will go on to become one of the greatest midfielders in the world and the Red Devils have done themselves no favours by letting a talent of his magnitude leave Old Trafford. David Moyes is struggling to bring in reinforcements in the middle of the park with Michael Carrick failing to live up to expectations after returning from injury. Paul Scholes retired after the end of last season and will soon be joined by Ryan Giggs, who has turned 40 in November.
Zidane believes that Pogba would have provided adeqate cover for Scholes and steadied the United midfield which needs a major makeover in the near future. The likes of Anderson, Tom Cleverly and Marouane Fellaini have flattered to deceive and if United have to get back to winning ways, they have to make a suffcient amount of investment in the same region that Pogba would have thrived.
The 20-year-old is a regular feature in the Juventus side and has been called up for the France national team through his performances over the length of the season. Zidane also hinted that Real Madrid are keeping their eyes open and a swoop for Pogba cannot be ruled out.
"The word 'mistake' is not something you would normally associate with Alex Ferguson's time at Manchester United. But I do think it was a mistake letting Paul Pogba leave," the French legend said.
"He will go on to be one of the best central midfield players in Europe and he was the natural successor to Paul Scholes, someone they could have built the team around. He is with Juventus and doing very well but, as always, Real Madrid will be looking to add the best players in the world," he added.
Pogba has been linked with a return to Manchester United but Madrid's interest in the player is likely to make it very difficult for Moyes to lure the Frenchman back to Old Trafford.