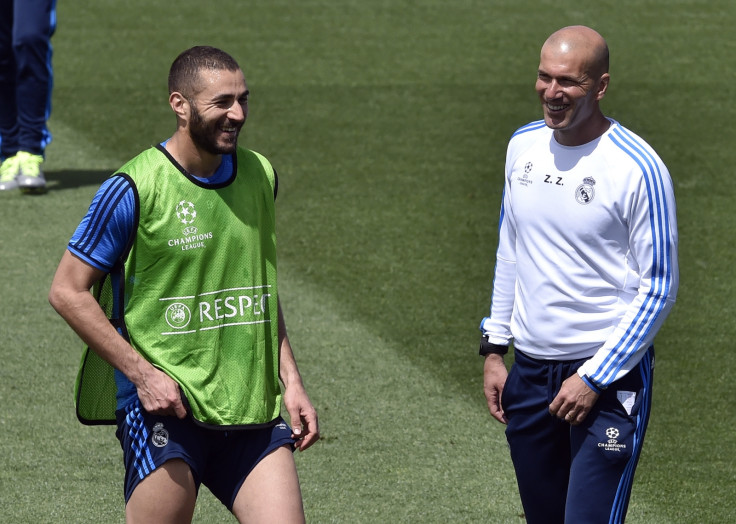 Zinedine Zidane has confirmed that Sergio Ramos and Karim Benzema are back and available for Real Madrid's visit to Atletico Madrid on Saturday (19 November). However, Casemiro and Pepe will remain on the sidelines alongside long-term absentees Alvaro Morata and Toni Kroos.
Real Madrid go to their Madrid neighbours sitting on top of La Liga ahead of Barcelona, having picked up eight victories and three draws from their first 11 games of the campaign. However, the situation on the treatment table at the Bernabéu has been less positive, with a number of key players hit by injuries since the start of the campaign.
Ramos is yet to play a game since the Champions League draw with Borussia Dortmund on 27 September due to a knee injury, while Benzema missed the previous victory over Leganes with a muscle problem. However, both have taken advantage of the international break to shaken off those problems and are in Zidane's 20-man squad for Atletico Madrid.
"Sergio has trained well and we'll look at how we're going to play tomorrow. When I [first] met him, he had more hair, and I did too. He's our captain and it's great to have him back with us. He's very important for the group, he's a good player and a good person. He's doing a fantastic job," Zidane said of the captain.
The captain is expected to return straight to the line-up as Pepe remains on the sidelines. However, Zidane failed to confirms whether Benzema is ready to start as the Frenchman only returned to full training on Thursday.
"Karim is in the squad. He's back with us and he's feeling better. I'm happy to have him back. He's ready to play from the start so we'll see tomorrow whether he'll be in the line-up or not," Zidane said.
Casemiro and Pepe were also tipped to make their long-awaited comebacks at the Vicente Calderon. However, Zidane has claimed that the derby will still come too early for them.
"Casemiro still needs time. He's getting better every day and we'll have a look at him next week," the boss said.
Furthermore, Morata and Kroos have also been ruled out of the Atletico Madrid match as the duo are set to spend a long time on the sidelines. The Spaniard suffered a grade 2 muscle blow on international duty, while the German international is recovering from the serious foot injury he sustained during Real's win over Leganes.
"These things happen and I'm not going to blame anyone," Zidane said of Morata's injury while on duty with Spain. "We're not happy about the injury but it happens. We want him to be calm and focused on recovering and that's all. I said before the break I hoped we wouldn't get any problems. Then this happened and it's the way it is. The important thing is to get him back quickly. I don't know what happened the other day, I'm not a doctor. Everyone there was a professional and they've done their best. Now we just have to be patient. He's frustrated, as am I, and I believe the national team is as well".
Meanwhile, Luka Modric is also fully fit after returning to action before the international break. Zidane hopes his return will help Real Madrid to secure a positive result on Saturday as, despite their two key victories in the Champions League finals of 2014 and 2016, his side have struggled against their city rivals in the league since the arrival of Diego Simeone to the Calderon.
"It's not an exam. We always analyse our opponents closely and try to frustrate them. We know they're familiar with us and it'll be a very difficult match for both teams. It's a great game to play in. We'll try and play a good match and do our best to win it," the Real Madrid boss added.
"It's not only special for me, but the derby is special for every Madridista. It might be the last one at the Calderón. It's special for both sets of fans. People speak about hate between fans and the teams, but seeing this derby is magnificent and I hope we get a beautiful game of football. We have to forget the negative aspects, the hate, and have a good time.
"It's going to be an incredible match. We're ready to play well. I was able to experience it as a player, from within it and from the outside."