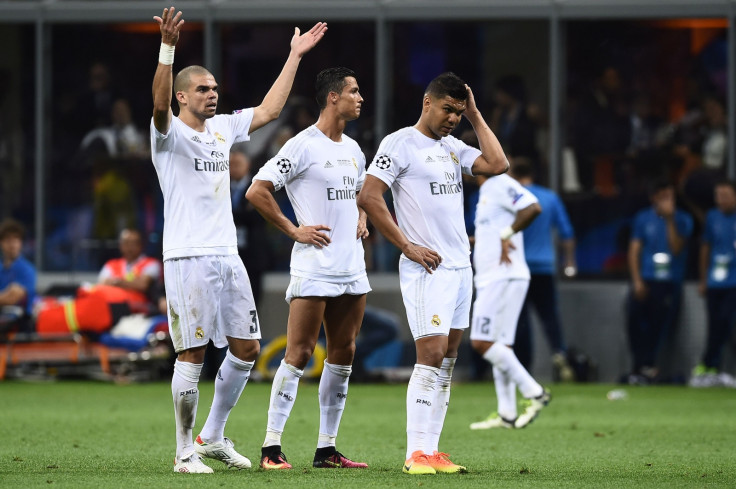 Real Madrid manager Zinedine Zidane has welcomed back the returns of Casemiro and Pepe ahead of the La Liga clash with Sporting de Gijon on Saturday (26 November). However, Raphael Varane and Fabio Coentrao will miss the game after the two defenders joined Gareth Bale, Alvaro Morata and Toni Kroos in the busy treatment table only a week before the long-expected visit to Barcelona.
Los Blancos host the Asturians at the top of La Liga table, four points ahead of second place Barcelona.
Casemiro has been out of action since September after suffering a fracture of his left fibula. Pepe, meanwhile, has missed the last four games after picking up a muscle injury in the femoral biceps of his left leg during the 4-1 victory over Alaves on 29 October.
But both returned to training earlier this week and are back available to face Sporting. The duo are not expected to start against the Asturians but may have a chance to gain some match fitness in the midweek Copa del Rey dead rubber (they won 7-1 in the first leg) with Cultural Leonesa, which will come just three days before El Clasico against Barcelona.
"They are both doing well and have recovered, we are happy to see them doing well. They are in the squad and tomorrow we will see if they play. Casemiro is doing well, he is with us, you will have to wait to see if he features," the Real Madrid boss confirmed in the press conference ahead of the game.
The return of the duo is a big double boost for Zidane following in a week in which he learned that Gareth Bale requires surgery in the ankle injury he sustained during the Champions League 2-1 victory over Sporting Portugal.
Reports suggests that the former Tottenham star could be out of action for more than three months but Zidane refused to set a timescale in the recovery.
"It is difficult when there are injuries, it is a pain. Everyone does what they can in order to recover, but sometimes there is nothing you can do. We cannot control it and now we must look to keep on what we are doing. I hope Gareth has a speedy recovery. We asked all the best specialists for their opinions and they all said we have to operate. That is what we will do," Zidane said. "I know that at times you think about us changing our system because of an injury but our dynamic on the pitch is the same. We have many players who can play in many different positions and that is the great thing about this team."
Furthermore, Zidane revealed a double new injury concern after leaving Varane and Coentrao out of his 19-man squad, but defending the second following his shaky performance during the Champions League 2 -1 victory over Sporting Lisbon.
"Varane has had a few issues with his knee and we don't want to risk it. He took a knock to the same knee that they operated on. As always we are hoping that he recovers in two or three days," Zidane said.
While asked about Coentrao, he said: "It was difficult with him. This is football and things happen. He is doing well, getting better all the time, but he has had issues with his adductor and he won't be with us tomorrow. That is how football goes and sometimes you have tough moments, but Fabio was out for a long time and it is normal that he is lacking in confidence.
"He has been training well and it is hard luck. I would have loved to have given him some minutes tomorrow, but what he needs is time to recover. I have got a lot of faith in him. His teammates are here to help him, as am I."
Alvaro Morata and Kroos also remain on the sidelines and it is still uncertain whether they will recover in time to face Barcelona.