Zlatan Ibrahimović next club decided as Manchester United circle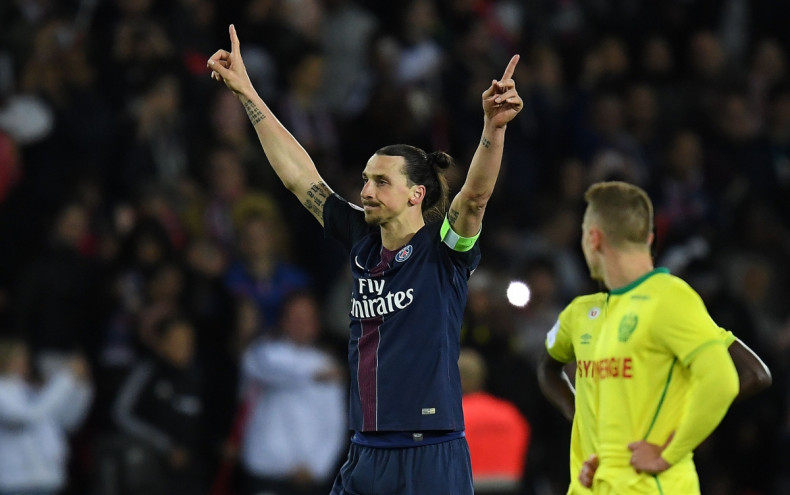 Zlatan Ibrahimović is unwilling to disclose where he will be playing next season, but admits a decision has been made over his next move following his last appearance for Paris Saint-Germain. The Sweden international has been heavily linked with moves to Manchester United, Los Angeles Galaxy or a club in the Chinese Super League, and it now appears the 34-year-old has come to a decision over his future.
Ibrahimović marked his final Paris Saint-Germain outing with two goals to defeat Nantes 4-0 and take his tally for the campaign to 37 – the most ever recorded by a PSG player in a single Ligue 1 campaign. The French champions confirmed before the weekend that Ibrahimović would be leaving the club following a four-year spell in Paris.
The Daily Telegraph understand that United are the runaway favourites to sign Ibrahimović and match his £300,000-a-week ($430,770/week) wage demands, that have been a major stumbling block in negotiations. The deal would make the former Barcelona and Juventus striker the highest paid player ever in the Premier League and confirmation of the agreement drew closer after he revealed a decision has been made over his next move.
"I know what I will do next year but I wouldn't tell you," he said to BeIn Sport, according to ESPN. "I am very excited tonight, I've had four fantastic years here. This is a fantastic group, it's even the best group I've played with. I will miss this team.
"We're proud of what we've done. The club will remain in my heart. I hope they will continue [to win] because the project is huge. I'm not worried.
"It was a beautiful night, it was hard to describe what I experienced. I never cry usually, but when I saw my children come on, I had tears in my eyes. I am very grateful to the French people. I had to give them the best of myself."
Speculation over Ibrahimović's future has been rife over the last few months when it became clear he would not be signing a new contract at the Parc des Princes. The forward has already admitted he has received offers from the Premier League, while his agent Mino Raiola has claimed United are not the only club interested in his services.
One key factor in Ibrahimović moving to United could be the imminent arrival of José Mourinho. The Sun understand the Portuguese coach will be given a blank cheque to revamp the squad at Old Trafford. The pair were together at Inter Milan and Ibrahimovic has consistently spoken fondly of the ex-Chelsea manager.