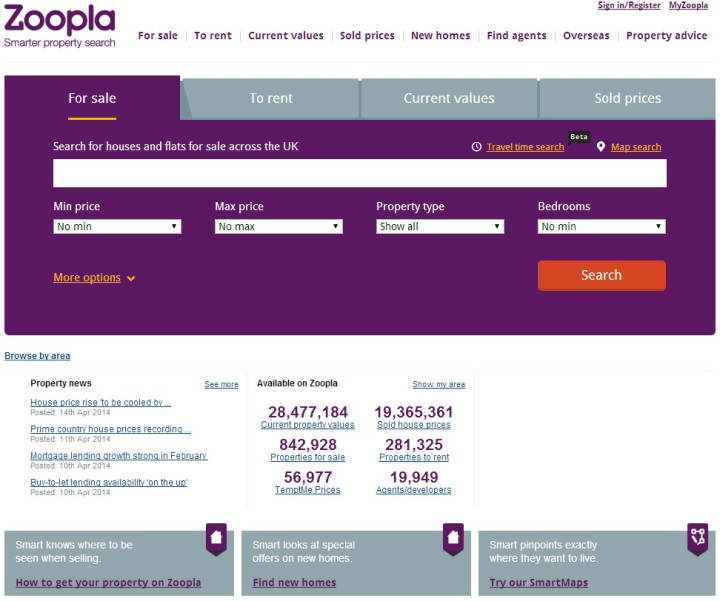 Zoopla shares surged after the property website floated onto the London Stock Exchange.
In conditional trading, Zoopla's share price had risen by as much as 5% to 230p, valuing it at around £960m ($1.6bn, €1.2bn).
It had set its offer price at 220p a share, towards the lower end of the original guidance. The offer was for 38.3% of the company. Full trading will begin on 23 June.
Daily Mail and General Trust (DMGT), which owns Zoopla, will hold on to a 31% stake in the company. Zoopla is the second largest property website behind Rightmove.
What is conditional trading?

When a company decides to float its shares on the stock market it may decide to perform this in two distinct stages. Once the offer price has been confirmed, and before the shares are officially admitted to the Stock Exchange, they can be unofficially traded. This is known as conditional trading, as the shares are being traded on the condition that they will be officially admitted to the Stock Exchange.

Source: Motley Fool
A revival in the housing market and the advance of digital has boosted online estate agents such as Zoopla, which said it saw an average of 39.9 million visits to its website amid the recovery.
Low interest rates, a recovering domestic economy and schemes such as Help to Buy have driven up demand in the housing market.
In turn this has pushed up house prices. The Office for National Statistics (ONS) said the average price of a UK home rose by 9.9% in the year to April 2014, hitting £260,000.
Now more homeowners are being tempted to cash in on the rising value of their properties by selling up, lifting the sales of firms like Zoopla.
"We are delighted with our successful listing on the London Stock Exchange," said Alex Chesterman, founder and chief executive of Zoopla.
"Today's announcement marks an important milestone for our business following a number of years of strong growth and having built a market-leading proposition.
"We have received a significant level of institutional investor support in our business which once again underlines the growth potential of Zoopla Property Group."