The world's first fingerprint authenticated payment card was unveiled by MasterCard on 17 October, 2014, following a partnership with Norwegian startup Zwipe.
The Zwipe MasterCard uses a fingerprint sensor on the card in order to authenticate contactless payments and can be integrated seamlessly with existing payment technologies.
"Biometrics makes it very simple and convenient for consumers", said Ajay Bhalla, president of enterprise security solutions at MasterCard, speaking to IBTimes UK at the card's unveiling event in London.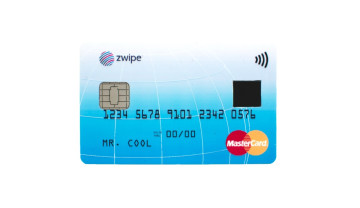 "Passwords are inconvenient, they're a big hassle and they get compromised. We believe that biometrics are the way of the future because your biometrics are unique to you, and when we marry your uniqueness to a device, then that authenticates you."
The card provides the power to run the fingerprint scanner by harvesting energy from radio frequencies emitted by payment terminals.
"It's quite a simple principle," Kim Humborstad, CEO and founder of Zwipe, told IBTimes UK. "All standard contactless terminals dispatch a radio frequency (RF) signal, and we use that RF energy to power the card.
"And we have then focussed on making the process as energy efficient as possible and we spent five years on actually developing these efficient algorithms."
Apple Pay and the rise of biometric payments
The announcement comes days ahead of the launch of Apple Pay, Apple's mobile payment system that utilises near-field communication (NFC) technology, together with the Touch ID fingerprint sensors found on the latest iPhone and iPad models.
Humborstad does not see Apple Pay as a rival payment technology, instead describing it as a "complementary" payment system.
"I think that Apple, through the biometric technology, really educated the market and opened it up for company's like us," Humborstad said.
Zwipe has already trialled the card in Norway in collaboration with the bank Sparebanken DIN and the partnership with MasterCard should see a much wider rollout of the technology.
Bhalla said that MasterCard has been trialling other forms of biometric technologies for payments, including iris recognition and identification through vein patterns in people's palms.
While refusing to give an exact date, Bhalla hinted that the Zwipe MasterCard will be available for UK customers at some point in 2015.