Apple has announced that its new NFC payment system Apple Pay will be released as part of the free iOS 8.1 update on Monday, 20 October, 2014.
Apple CEO Tim Cook made the announcement during an event in Cupertino, California, on 16 October.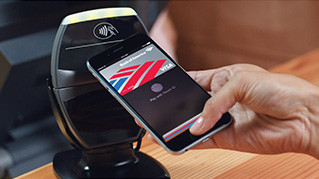 Apple Pay was first announced alongside the iPhone 6 and Apple Watch in September.
Utilising the Touch ID fingerprint sensor, Apple Pay uses near-field communication (NFC) to make mobile payments.
"One-touch checkout, no card number entry, no need to type addresses, no card information shared with merchant," Cook said at the September event.
Apple is striking at the right time, with over 220,00 retailers now experimenting with NFC.
Major credit card companies and big-name retailers have already partnered with Apple, including Starbucks, Target, Staples, Disney, and Uber.
Leaked documents have also suggested that McDonalds has expressed interest in integrating the payment system.
Apple Pay will be available as a free update to iOS 8 on Monday, however will initially only be available for online purchases.
Keep up with the Apple news as it breaks on the IBTimes Liveblog: