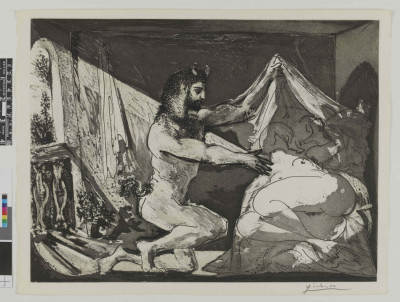 A set of previously unseen Pablo Picasso etchings worth £1 million have been donated to the British Museum in London.
The 100 etchings, created between 1390 and 1937 during Picasso's 'classical phase', will go on display at the museum next summer after the money needed to acquire the prints were donated by a fund manager working in the City.
Many of the etchings show the Italian's 17-year-old muse and model, Marie-Thérèse Walter, who was also believed to be his lover. Others show Picasso working in his studio, creating new sculptures and scenes inspired by Greek mythology.
The museum said they "show something of Picasso's creative process."
There is thought that some 313 sets of Picasso's etchings were printed. This set in particular is said to be "one of the very best impressions" and has not been shown before. This collection will be the only complete set to be held by a British museum.
The etchings are known as Vollard Suite because they were commissioned by Paris art dealer and print publisher Ambroise Vollard.
The museum already had seven etchings from the Vollard Suite, acquired in 1979. The donation came about after the curator said at an event that it was his "long-term ambition" to have the complete set.