10,000-year-old mammoth remains found in Oregon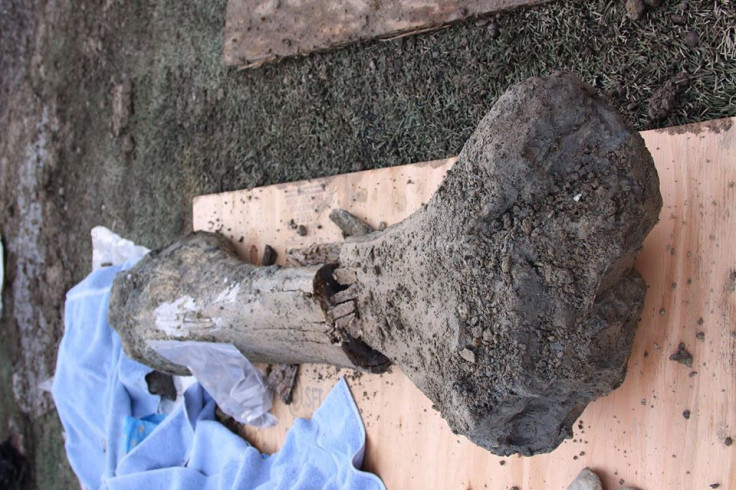 A construction crew digging at the football ground of Oregon State University has discovered what appears to be a large femur bone of a mammoth. Skeletal remains of other prehistoric mammals were also uncovered from the university's Reser Stadium.
"An ancient creature has been living under Reser Stadium," the university announced on Facebbok. "Today (on 26 January), construction crews made a 10,000-year-old mammoth discovery," it added, referring to the find as "something big".
The remains were found during excavation for an expansion project of the football stadium. "A worker digging in the area made the initial discovery of the large femur bone and immediately stopped work in the area," senior project manager Tim Sissel said in a statement.
Scientists are yet to determine the dates of the bones of other extinct animals found at the site. "There are quite a few bones, and dozens of pieces," said Loren Davis, an associate professor of anthropology at the university. Some of the bones are not in very good shape but some are actually quite well preserved, he said, adding further tests would be needed to determine the bones' exact age.
Davis said no sign of human presence in terms of skeletal remains or artefacts was found at the site. Since the discovery does not appear to have human involvement, the animals were supposedly not killed, he added.
The bones will be soaked in water to prevent further deterioration and sent for carbon dating to determine their age, the university said. Davis called the find "amazing" as it would be a "great learning experience" for students to learn how to identify extinct animal bones. The discovery would also help scientists understand the ancient environment of the region, he said.
However, he added that the discovery of the ancient mammal bones was not unusual in the area that was once a marsh land. "Animals who were sick would often go to a body of water and die there, so it's not unusual to find a group of bones like this," Davis said referring to earlier finds of bones of mammoth, bison and camel or horse from the area.
© Copyright IBTimes 2023. All rights reserved.