12 NHS Hospitals Using 3D-Printed Models To Test Implants Before Surgery
UK medical printing specialist Replica 3DM uses CT scans to make models NHS surgeons test implants on

UK medical 3D-printing specialist Replica 3DM is using Stratasys 3D printers to provide 12 NHS trust hospitals with models to allow surgeons to test implants and plan surgeries, before operations begin.
Replica 3DM was started about two years ago. To start with it provided Salisbury District Hospital with a medical 3D-printing service in a new department.
"We wanted to set up a 3D-printing hub for hospitals who can't afford the 3D-printing equipment or can't justify it as their 3D model numbers are so low," Replica 3DM managing director Matthew Sherry told IBTimes UK.
"We thought we could set up the service to benefit the trusts and we thought we could do it cheaper and better."
The partnership with Salisbury was so successful that Replica 3DM's services are now used by 12 NHS trust hospitals across England, and the firm is also working with NHS Innovations to create new medical equipment.
Most commonly requested 3D models
The models that the hospitals commonly request include jaw bones, for facial reconstruction surgery; elbows; hip revision models, to rehearse repairing hip replacements; forearms, to repair deformed bones; and cranial plastics, whereby the surgeon has to fit a titanium implant to a hole in a person's skull.
The 3D models have also been used in orthopedics, neurology, spinal and ears, nose and throat wards, so that surgeons can identify the best procedure to use before surgery, which has cut down surgery time and hospital costs dramatically.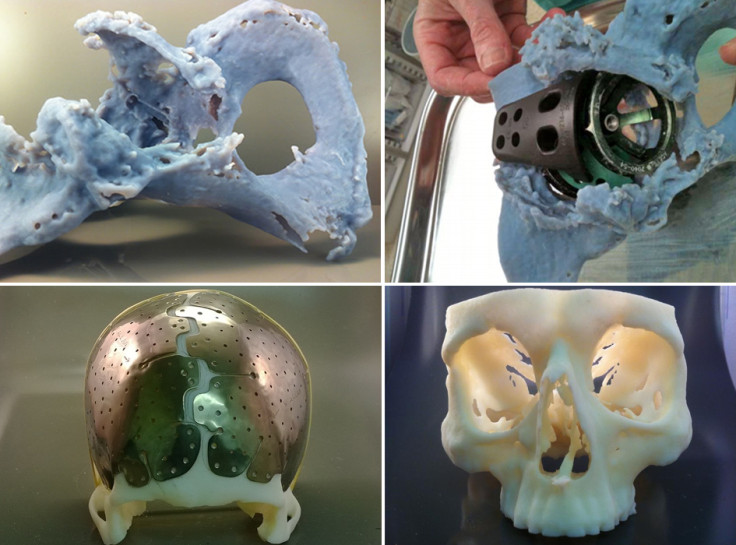 "As demonstrated in a recent maxillofacial procedure [surgery on face and jaw bones] at Salisbury District Hospital, the ability to pre-bend the titanium plate prior to surgery enabled surgeons to secure the perfect custom fit. This reduced the number of incisions required and overall theatre time, directly impacting the quality of patient care," said Sherry.
"With theatre typically costing around £3,600 an hour, you can imagine how much we save NHS trusts. In most cases, a model will pay for itself, and helps with essential pre-operative surgical planning."
Streamlining the 3D modelling process
Replica 3DM has two Stratasys printers – the Objet24 and the Objet30 – as well as a customised PLA extrusion printer. The printers are able to print out models of bones in polymer acrylic as well as 'ninja flex', a type of soft rubber used to print models of organs and other softer tissues.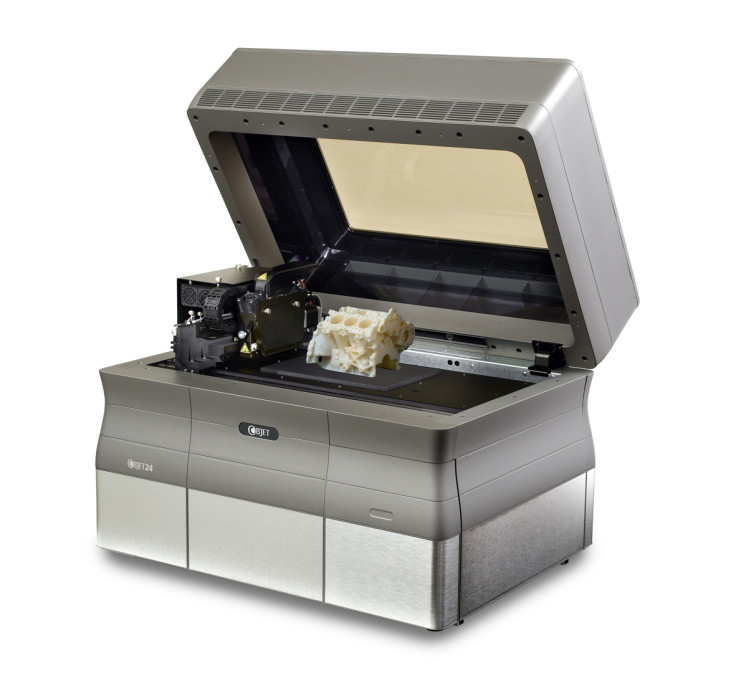 A Stratasys Objet24 3D printer.
Stratasys
The firm also has access to 3D printers owned by Southampton University, which are able to print various types of metal, such as titanium, which is commonly used in surgical implants.
"We write in-house software that makes it faster to take a patient's CT scan and make it 3D-print ready, which can be tricky," explained Sherry. "Without the software, it would take three to four hours to print a jaw bone using off-the-shelf software, provided you had the right computing speed and medically-approved software.
"But with our software, it takes us 40 minutes to make the 3D model ready, and it only takes that long because 99% of patients have fillings in their teeth, and the fillings cause an artefact in the CT scan which we have to remove."
The hospitals using Replica 3DM's 3D-printing services include:
Southampton General Hospital
Salisbury District Hospital
Poole Hospital
Bournemouth Royal Hospital
Queen Alexandra Hospital, Portsmouth
Russell Hall Hospital, Birmingham
Royal Gloucester Hospital
Aintree Hospital
Preston Hospital
Royal Surrey County Hospital
The Shrewsbury and Telford Hospital, and
Torbay Hospital, South Devon
© Copyright IBTimes 2023. All rights reserved.