Beijing Doctors Implant World's First 3D-Printed Vertebra into 12 Year-Old Boy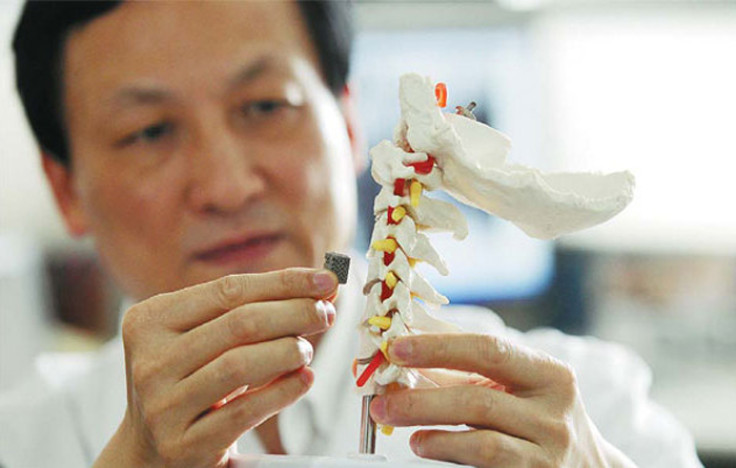 Doctors from the Peking University Third Hospital (PUTH) in Beijing, China, have become the first in the world to use 3D-printing in complex spinal cord surgery, after replacing a section of cancerous vertebra in a boy's neck with a piece created on a 3D printer.
Minghao, 12, had developed a malignant tumour in his spinal cord, which was discovered when he injured his neck playing football, state broadcaster Chinese Central Television reported.
He was in so much pain that he was only able to stand up occasionally, and only for a few minutes at a time, during his two-month stay in hospital before the surgery.
The procedure to remove this form of cancer is so complex that only five hospitals in China are equipped to perform the surgery. The tumor affects the top of the spinal cord in the neck, but also the internal and external carotid arteries, and the patient's windpipe.
PUTH's orthopaedics department conducted the surgery last Friday, and successfully implanted the 3D-printed piece of vertebra.
Minghao is still not able to speak, and has at least three months of recovery time ahead of him, but the hospital says he is in a good physical condition and is expected to make a full recovery.
"Using existing technology, the patient's head needs to be framed with pins after surgery. The patient's head cannot touch the bed when he is resting. This lasts for at least three months. But with 3D printing technology, we can simulate the shape of the vertebra, which is much stronger and more convenient than traditional methods," Liu Zhongjun, director of orthopaedics at PUTH told CCTV.
"This is the first use of a 3D printed vertebra as an implant for orthopaedic spine surgery in the world."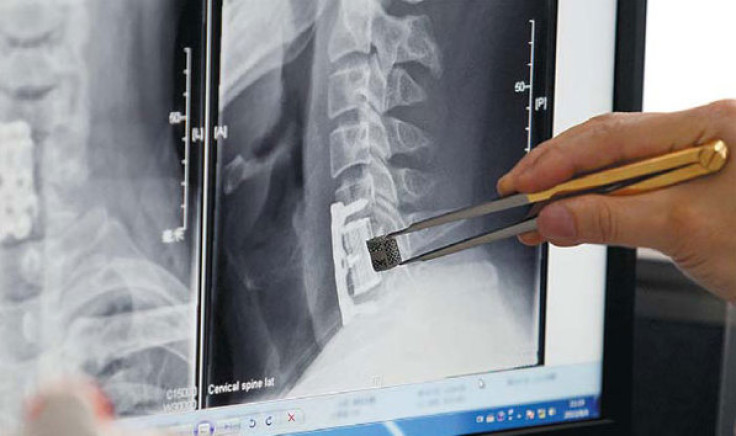 Making sure the 3D-printed vertebra implant matches the vertabra in the patient's neck
Peking University Third Hospital
According to 3Dprint.com, this is just one of several clinical trials being held at PUTH using 3D-printed technology.
The hospital's surgeons used 3D-printed implants last year to help a woman suffering from cervical spondylosis: a degenerative 'wear-and-tear' condition of the vertebrae and discs in the neck, which causes the discs in the neck to become thinner and rougher.
A 32 year-old man also received a 3D-printed implant from PUTH. He had been unable to walk due to numbness in his limbs from a spinal condition, which caused vertebrae to press on nerves that controlled his walking.
Chinese hospitals have been researching the medical uses of 3D printing since 2002. In 2008 surgeons at the General Hospital of Guangzhou Military Command began using 3D-printed models to rehearse complex surgeries in advance.
© Copyright IBTimes 2023. All rights reserved.