£200m London Garden Bridge project scrapped after Sadiq Khan pulls support
Tory London Assembly member Andrew Boff says the Mayor of London must face further questions.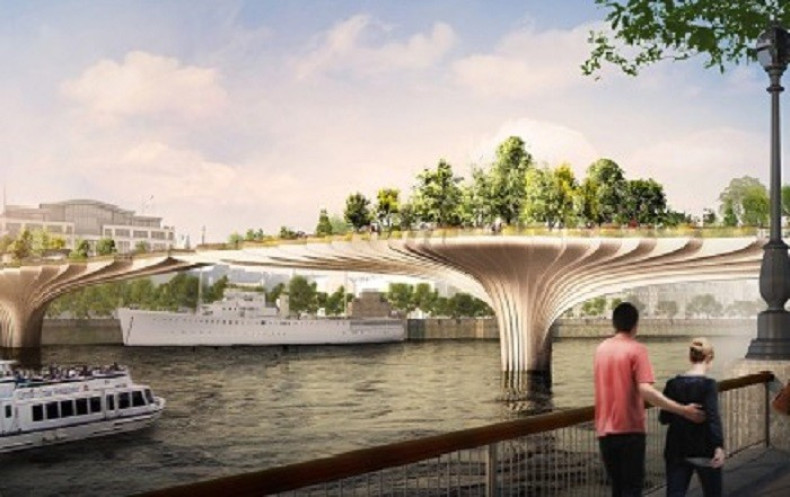 A £200m ($259m) project to build a so called Garden Bridge across London's River Thames has been scrapped, the charity behind the plan announced on Monday 14 August. The Garden Bridge Trust said it has informed Mayor of London Sadiq Khan, Transport for London and the Department for Transport that it will be winding up the project.
The decision comes after Khan told Lord Mervyn Davies, the chairman of the charity, in late April that he was not prepared to sign the guarantee for the annual maintenance costs of the Bridge, warning that it would "expose the London taxpayer to too much additional financial risk".
The Trust had already spent more than £37m of taxpayers' money on pre-construction work.
"It is with great regret that Trustees have concluded that without Mayoral support the project cannot be delivered," Davies said.
"We are incredibly sad that we have not been able to make the dream of the Garden Bridge a reality and that the Mayor does not feel able to continue with the support he initially gave us. We had made great progress obtaining planning permission, satisfying most of our planning conditions and we had raised £70m of private money towards the project.
"The Garden Bridge would have been a unique place; a beautiful new green space in the heart of London, free to use and open to all, showcasing the best of British talent and innovation. It is all the more disappointing because the Trust was set up at the request of TfL, the organisation headed up by the Mayor, to deliver the project. It is a sad day for London because it is sending out a message to the world that we can no longer deliver such exciting projects.
"I would like to thank our donors and supporters, who gave us unstinting help and support along the way."
Actress Joanna Lumley first pushed for the idea of a Garden Bridge in 2013, when former Mayor of London Boris Johnson was in office. Conservative London Assembly member Andrew Boff, a long-term opponent of the project, said: "Sadiq Khan had all the information necessary to cancel this project in May last year.
"As Lord Davies' letter makes clear, however, his inability to make decisions has cost the public purse £9 million. His predecessor, wrongly in my view, clearly supported the plans for the Garden Bridge. It's clear that Sadiq Khan's indecision has wasted millions more pounds of taxpayers' money in the confusion.
"As we await the publication of transcripts from Margaret Hodge's secretive Garden Bridge review, the Mayor must now answer further questions about his contribution to this disastrous project."