The last 12 months have seen arguably the highest and lowest points of Twitter's six-year existence; from the "social games" of London 2012, to the re-election of Obama, this year Twitter has been a part of our lives more than ever.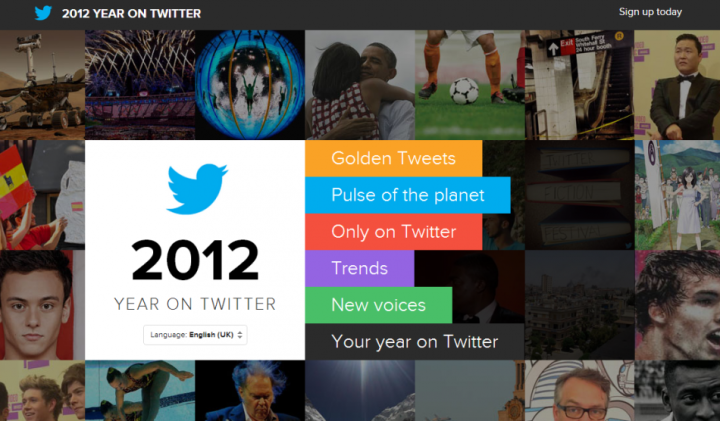 In a bid to document its activity over the last 12 months, Twitter has launched the website 2012.twitter.com, similar to Google's Zeitgeist report which documents the most popular searches on the web.
Twitter's website brings together highlights of the year , including President Obama's "Four more years" tweet, sent after his re-election on 6 November and going on to become the most popular of all time, clocking up more than 810,000 retweets.
Britain's sporting achievements at the London 2012 Olympic Games were all well publicised on Twitter, where fans followed events live, athletes posted photos from their experiences and Team GB's tweet summing up its success saw more than 67,000 retweets.
It wasn't just the sport itself that gained huge attention on Twitter; the largest spike in games-related traffic was recorded during the Spice Girls' performance in the closing ceremony, which peaked at 116,000 tweets per minute.
The largest sport-related conversation on London 2012 came when Usain Bolt won gold in the 200m sprint, a win that encouraged 80,000 tweets per minute.
The Olympic Games also saw creator of the World Wide Web, Sir Tim Berners-Lee, tweet "This is for everyone" while playing his part in the opening ceremony.
But 2012 on Twitter was not without controversy. It was a year that saw users arrested for defamatory and offensive tweets, first highlighted when a user who sent abuse to Olympic diver Tom Daley was arrested.
Twitter re-election
Four years ago Twitter was far smaller than it is today, so 2012 saw the first US election to take place in front of such a large social media audience. The first presidential debate produced 10 million tweets and more than 31 million were sent on Election Day itself, with a peak of 327,000 per minute as the votes were being counted.
Although almost unrivalled as a platform for debate, Twitter saw another important use in 2012, when hurricane Sandy wreaked havoc across New York. The natural disaster encouraged 20 million tweets documenting Sandy's impact across six days.
In the aftermath Twitter again became a useful tool, with tweets mentioning the word "donate" reaching a 180-day peak, and the phrase "donate blood" hit a 365-day peak.
Out of this world
Sandy coverage on Twitter wasn't contained to this planet, as US astronaut Sunita Williams posted a photo of the storm from the International Space Station.
Even further away, Nasa's Curiosity rover landed on the surface of Mars, and of course the moment was broadcast to Twitter directly from the shuttle's command centre, passing on data and photos from the rover itself.
As one space mission got under way, another came to an end when the shuttle Endeavour was flown piggyback on a jumbo jet, a unique event that was tweeted about with the hashtag "#spottheshuttle" as it made its way across America.
While Curiosity rover is responsible for the most distant tweet, movie director James Cameron took the record for the deepest, when he posted to Twitter from the bottom of the Mariana Trench, 35,755 feet beneath the sea.
Breaking news
Throughout 2012 Twitter continued to cement itself as a genuine newsbreaker, as journalists and news wires brought photos and reports from the likes of Syria and the Egyptian election.
Where conventional news teams with broadcast cameras were not welcome, journalists turned to their smartphones to keep the story going, uploading HD video and high quality images live from the front lines.
Data released by Twitter shows what the British public have been tweeting about the most. The NHS, Syria and Julian Assange were the most popular issues for debate, followed by Prince Harry and controversial journalist Samantha Brick.
Our habit of tweeting along to television gave Jeremy Kyle the top spot as the most tweeted-about programme of 2012, followed by Game of Thrones, American Dad and Eastenders.
In case you still weren't sure about how big 2012 has been - and how much Twitter has been a part of it - there is more data at 2012.twitter.com.