It was a year when people in the UK were obsessed with sport and royalty according to Google's latest Zeitgesit report - with Euro 2012, the Olympics and Kate Middleton all featuring prominently on the lists of trending search terms of 2012.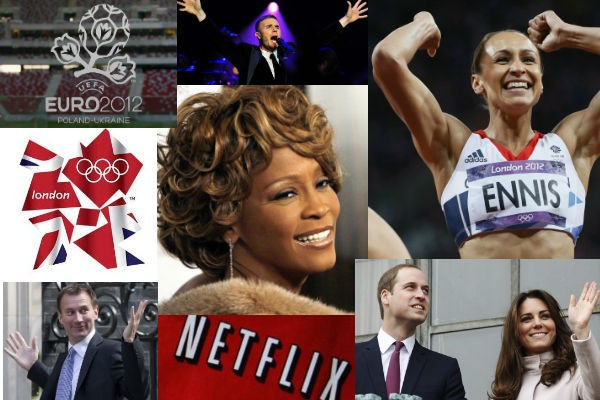 Top trending UK search term - Euro 2012

Top trending person - Whitney Huston

Top trending Briton - Kate Middleton

Top trending UK politician - Jeremy Hunt
Take That frontman and X Factor judge Gary Barlow was the second most trending UK person, but they were both beaten in the global rankings by Whitney Houston, who died in February.
Zeitgeist is Google's annual report which details what we've been searching for over the past 12 months. The latest report also revealed that the most searched term by the UK in 2012 was 'Euro 2012', with 'Olympic tickets' in second place, Whitney Houston was third for overall searches, Kate Middleton fourth and missing schoolgirl April Jones fifth, ahead of film streaming service Netflix, 'Natwest online', iPad 3, Gary Barlow and the song Gangnam Style rounded out the top ten.
The popularity of X Factor was obvious in 2012, with judges Gary Barlow and Tulisa claiming third and fourth places in Google's top trending global people of 2012, while the Olympic Games meant Jessica Ennis, Tom Daley, Mo Farah and Victoria Pendleton all feature in the top ten trending British people.
The X Factor helped to promote contestant Lucy Spraggan to become the top trending music artist of the year, despite dropping out of the competition due to illness, ahead of The Military Wives in second and Will.i.am in third.
Gangnam Style singer Psy was fifth and the Olympic opening and closing ceremonies helped to bring The Spice Girls and Muse into the top ten, at seventh and eighth respectively.
Bolton Wanderers footballer Fabrice Muamba was the sixth most trending person in the UK, due to suffering a heart attack during a live televised game against Tottenham Hotspur earlier this year, followed by a well-publicised recovery.
London 2012
Sports featured highly in the top trending news topics of 2012, with Euro 2012 claiming the top spot, ahead of the Olympics in second and 'Olympic torch route' in fourth, separated by Hurricane Sandy in third.
The top trending British Olympian was Andy Murray, followed by Tom Daley, Jessica Ennis, Mo Farah and Victoria Pendleton.
Britain's most decorated athlete of all time, Sir Chris Hoy, ranked seventh, although Team GB barely featured in the top trending global Olympians, which was topped by Usain Bolt.
The Olympic and Paralympic games dominated trending sports of 2012, with Murderball (also known as wheelchair rugby) coming second and wheelchair basketball was third; bizarrely, they were both beaten to first place by synchronised swimming. The top ten trending sports of the year were all from the Olympic and Paralympic games.
Thanks to his Las Vegas antics, Prince Harry was ranked as the ninth most trending person and the fifth highest UK person in a year that saw the royal family create more headlines than they had planned for.
The most trending UK politician of the year was Jeremy Hunt, followed by Mayor of London Boris Johnson in second, while Louise Mensch was seventh; I'm a Celebrity... contestant and MP Nadine Dorries was eighth.
The Only Way Is Essex was the third most trending TV show, behind Homeland in second, and children's cartoon Mike The Knight was first.
Samsung Galaxy S3 beats iPhone 5
In technology Netflix was the most trending term of 2012, having arrived in the UK at the start of the year. Apple's iPad 3 and iPad mini were second and third, but the iPhone 4S and 5 were nowhere to be seen, beaten by the Samsung Galaxy S3, which was the eighth most trending tech term searched for by UK Googlers.
Finally, the most popular 'how to' search request was 'draw', followed by 'kiss', and 'Love' took the top spot of most trending 'what is' of 2012, followed by Apple's online storage and email service iCloud, 3G mobile broadband and Instagram.
Google's Zeitgeist Lists:
Top 10 trending UK search terms of 2012
1. Euro 2012
2. Olympic tickets
3. Whitney Houston
4. Kate Middleton
5. April Jones
6. Netflix
7. Natwest online
8. iPad 3
9. Gary Barlow
10. Gangnam Style
Top trending British people
1. Kate Middleton
2. Gary Barlow
3. Tulisa
4. Jessica Ennis
5. Prince Harry
6. Tom Daley
7. Mo Farah
8. Jimmy Savile
9. Victoria Pendleton
10. Danica Thrall
Top trending British Olympians
1. Andy Murray
2. Tom Daley
3. Jessica Ennis
4. Mo Farah
5. Victoria Pendleton
6. Bradley Wiggins
7. Chris Hoy
8. Rebecca Adlington
9. Laura Trott
10. Louis Smith