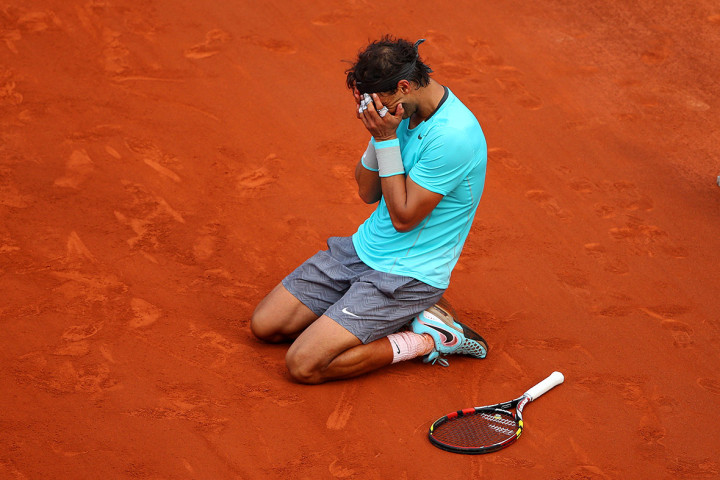 Rafa Nadal has equalled Pete Sampras' 14 Grand Slam victory record while he is just three grand slam wins away from Roger Federer's – beating Novak Djokovic in the French Open Men's final.
The Spanish legend beat the Serbian 3-6, 7-5, 6-2, 6-4 in the Paris final, clinching his ninth Roland Garros crown – having won the last five in a row.
The 28-year-old Spaniard has also won two Wimbledon, two US Open and one Australian Open titles.
Meanwhile, legendary Sampras won seven Wimbledon, five US open and two Australian open titles but never managed to clinch a title at Roland Garros.
Nevertheless, Federer record remains unbeaten even though he is yet to win a Grand Slam since 2012, having won seven Wimblendon, five US Open, four Australian Open and one French Open title.
Nadal expressed his happiness after the final, claiming that tennis gave him back what it stole from him in the recent Australian open final when a back injury saw him struggling against Stanislas Wawrinka.
"It's incredible for me. I lost the final in Australia due to back problems and it was hard for me. Today tennis gave me back a bit of what it took from me in Australia. I will never forget this, thanks everyone, for me it's difficult to talk," the Spaniard said after the final.
"Thank you to everybody who works here to make this the best tournament in the world. I'd also like to thank the fans, it's incredible to play here and your support is unforgettable. Thanks to my team, without them it would be impossible to be where I am today. In the good moments and bad moments, all the work we have done is for days like today. Many thanks and I hope to see you next year."