A rally outside the US embassy in Philippines capital Manila turned violent on 19 October after police clashed with protesters and used tear gas and water cannons to disperse them. The demonstrators are reportedly national minorities from the Lumad and Moro communities, fighting against the presence of American forces in the Philippines.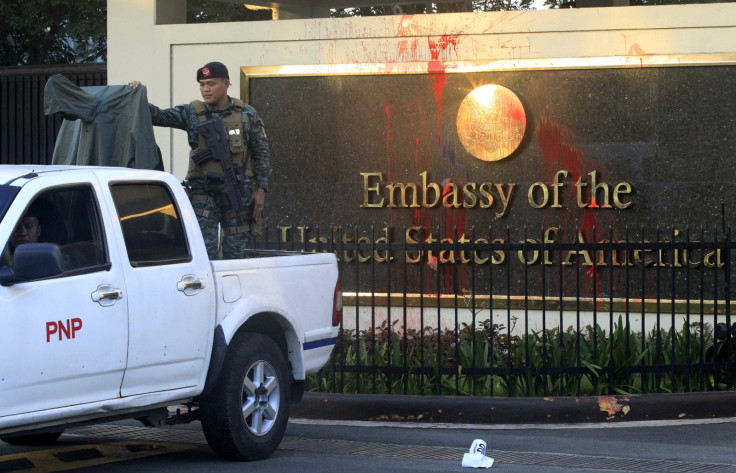 According to reports, a police van rammed into the crowd at the rally and ran over three people. Protest leader Renato Reyes informed that the injured were taken to hospital for treatment.
Campaign Kilusang Magbubukid, a militant movement of rural workers posted on Twitter that at least 10 protesters have been arrested.
"We condemn the violent dispersal of protesting indigenous peoples and Moro in front of the US Embassy. They are here in Manila for the Lakbayan ng Pambansang Minorya to highlight the struggle for self-determination but they were met with violence by state forces," the group posted on its Facebook page.
The protest was in keeping with President Rodrigo Duterte's call for an independent foreign policy.
The demonstrators reportedly damaged the embassy seal and defaced the walls of the property, throwing paint bombs at security forces. One demonstrator spray painted the word "Berdugo" (a Filipino word for butcher) on the embassy wall.
The Cordillera Peoples Alliance (CPA), described as "an independent federation of progressive people's organisations" tweeted that the protesters moved their rally to the Manila Police District (MPD) headquarters to rally against the force used by police.
On 4 October, protesters burned US flags during a rally opposing the US-Philippines joint military exercises outside the American embassy in Manila. Local demonstrations against the Enhanced Defense Cooperation Agreement (EDCA) between the two countries have caused numerous clashes with crowds and police.