Depending on who you ask 3D printing is a technology that has been used by companies for several years to quickly make prototypes, or it is a new-fangled hobbyist technology that allows geeks to design pretty, but not entirely useful objects, and then print them out.
But 3D printing is evolving from a product designer's best-kept secret to a tool that can advance manufacturing methods, disrupting traditional industry processes and business models.
Take Normal, a start-up that already has a large retail store in Chelsea, Manhattan – a multi-cultural area of New York, where art galleries and alternative shopping reign supreme.
This business centres around personalised in-ear earphones that fit each user snugly. The company can make these products instantly on 10 Stratasys Fortus 250mc 3D printers, using information sent by customers from an iOS or Android mobile app.
"The reality is that mass customisation has been around for a while, but the process was really hard. Custom-making stuff in other industries is unscalable, expensive and not user-friendly, and the only existing custom-made headphones on the market cost up to $2,000 (£1,250, €1,590)," Normal's chief executive Nikki Kaufman told IBTimes UK.
"Who wants to spend $2,000 on earphones? I wanted to change that, to make the process more accessible to consumers. We realised that we could use a photo to make a custom product for you – no moulds, no scans, just a photo."
Kaufman started prototyping comfortable earphones in her apartment, then designed a modular system that could let customers select the colour of every single part of their earphones, even down to their carry case.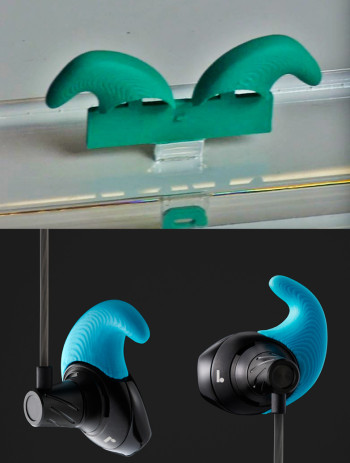 Once Normal receives photos of the customer's ears – which can be done in-store or from anywhere else in the US via its NRML app – the data is translated into a CAD file, which is used to print a personalised earpiece that fits the individual's ear.
Next, the 3D-printed ear pieces are taken to a variety of stations in the store to be painted, smoothed and tested for sound quality and assurance. The product can then be shipped out in as little as 48 hours.
This new way of streamlining the production and manufacturing process is able to cut out the middleman and deals with factories, in essence bringing the entire process directly into the company's hands.
IT research and advisory company Gartner says that worldwide shipments of 3D-printed products will increase by 107% between 2014 to 2015. By 2018 there will be over 2.3 million shipments a year, while overall end-user spending on 3D-printing will increase to $13.4m in 2018. Much of this will be driven by enterprises rather than consumers, as technologies such as vat
Much of this growth will be driven by enterprises rather than consumers, as technologies such as vat photopolymerisation (constructing a model, layer by layer, using resin dried by ultraviolet light) and material jetting (spraying layers of material 16 micrometres thick, and hardening them with UV light) become more popular, especially as more players enter the 3D printing market.
"This is not just a factory, but also our retail store. People can come and watch the whole assembly line for their headphones being made, in a way that manufacturing and retail have never come together before," said Kaufman.