Archaeologists have discovered the grave of a suspected vampire in Kamien Pomorski, northwestern Poland.
The body, which dates back to the 16th century, was unearthed during a dig in a marketplace in the town, situated in the West Pomeranian Province.
As reported in Kamienskie.info, the team found unusual features which indicated the burial site was vampiric.
The teeth, or "fangs" had been removed and a fragment of rock had been inserted into the mouth. In addition, his leg had been staked in order to prevent the body from rising from its grave.
Slawomir Gorka, who led the dig, said: "A piece of brick rubble in the mouth and pierced thigh indicates that it is a vampire burial. This was done not for him, but for the community, who lived here."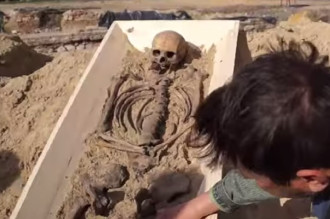 Gorka added that the same rituals were common in burials in the Kamien Pomorski area between the 13th and 17th centuries. The body was buried in the cemetery next to the town church.
"We have to understand that the cemetery existed from the thirteenth to the eighteenth century, but not in every period. The body was buried when the cemetery no longer existed, towards the side of what is now the cemetery," he said.
"Initially we thought he had suffered a leg wound, but from sifting through the earth underneath, we realised there was a hole likely made from a puncture."
Last July, archaeologists in Poland believed they had discovered a vampire grave on a construction site in the south of the country. Seven bodies, with their heads removed and placed on their legs, were found near the town of Gliwice.
Experts estimated the bones to date back to the 16th century, but the absense of personal effects such as jewellery made it difficult to pinpoint the exact age of the skeletons.
"We found absolutely nothing on the skeletons, so it is difficult to say what period the skeletons are from. This is a special case, " archaeologist Dr Jacek Pierzak told the Dziennik Zachodni newspaper.
The origin of the vampire legend dates back to ancient Greece and Egypt. Dr Tim Beasley-Murray, a lecturer in Slavonic studies at UCL, told the Guardian that the myth spread up through the Balkans into eastern Europe where it was fertile in the pre-Christian era.
"There is a strong Slavic belief in spirits. Romanian folklore has vampiric figures such as the moroi and strigoi. The word 'mora' means nightmare. But these are common to many cultures. We often see bird or owl-like figures that swoop and feed on you."