Users are reportedly facing crash issues with their 64-bit version of Google's Chrome browser, following the release of Windows 10 build 10525 for members of Windows Insiders fast ring.
The browser issue often results in incomplete loading of webpages and tabs, while extensions and plug-ins crash randomly at times, reports Windows Central.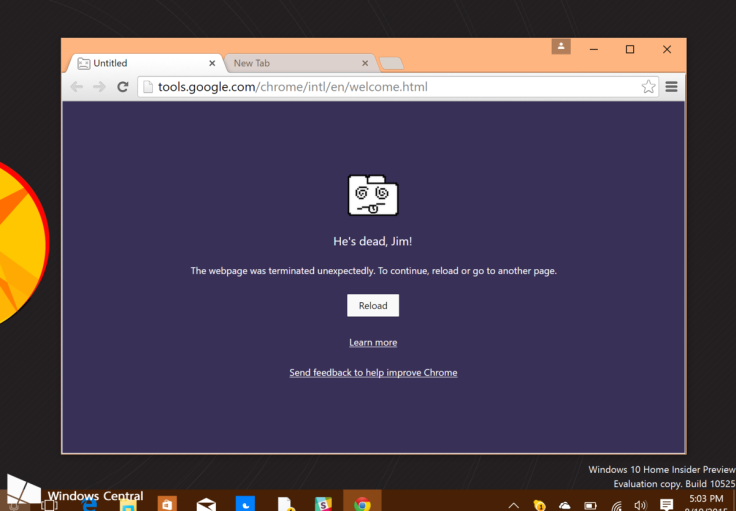 According to a recent post on Google's Chromium message board, the company seems to be aware of the problem and some developers are already working on it.
Nevertheless, affected users can post their queries and feedback by marking a star against the issue thread on the forum's message board:
We have the problem confirmed and someone is working on it, so additional "me to" comments are a distraction at this point. Please just star the issue if you want to convey that you are affected, and if we have any questions or need additional feedback we'll post a comment.
Also, please remember that this kind of temporary breakage is expected for users on the Windows 10 fast ring. So, we definitely appreciate your assistance in tracking down these problems, but if you're not comfortable dealing with disruptions and workarounds, then the fast ring might not be for you.
Meanwhile, 32-bit Chrome users can continue to run the browser without any hassles with Windows 10 build 10525.
Those running the 64-bit version of Chrome on Windows 10 build 10525 can try a temporary fix to resolve the browser crash issue (courtesy Tero Alhonen via Twitter):
@stanzillaz @rlinev @Daniel_Rubino re-re-installing didn't help but --no-sandbox did the trick. Not optimal though https://t.co/BLQRG3aKFN

— Tero Alhonen (@teroalhonen) August 18, 2015
Temporary fix for Google Chrome (64-bit) crash issue
Right-click on Chrome's desktop shortcut and select Properties
Go to Target input box and add "--no-sandbox" at the end and then click OK. Confirm the action with your Administrator password if prompted and let the change take effect.
The amended text should look as shown in the screenshot below: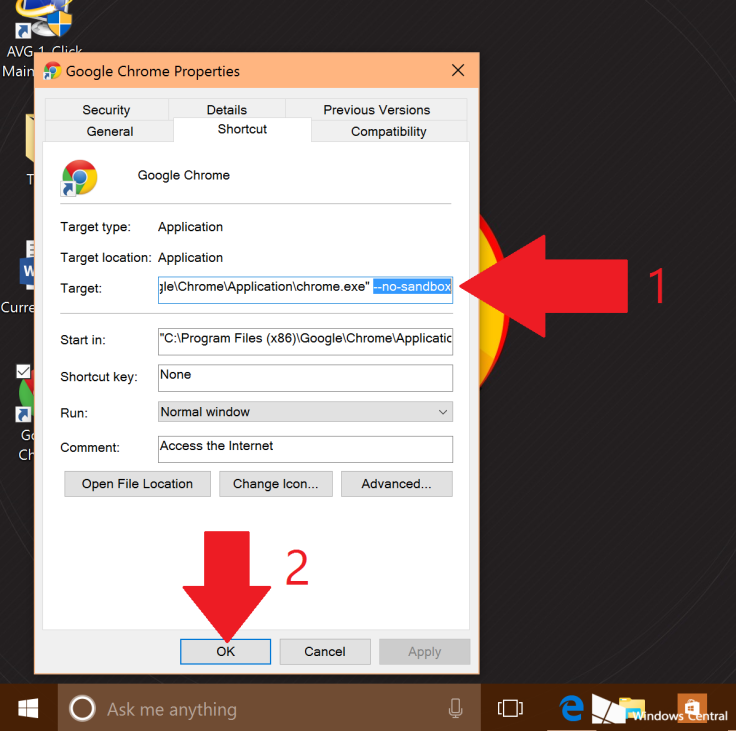 Launch Chrome and it should now start working normally on Windows 10 build 10525. If you still see a security warning at the top of the screen, just ignore or dismiss it.
Note: This temporary fix is limited to the regular Chrome (64-bit) and not for Chrome Canary (64-bit).
[Source: Windows Central]