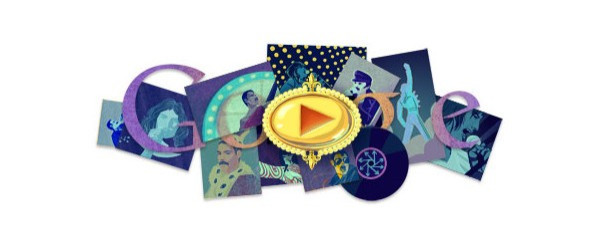 August 5 marks the Birthday of Freddy Mercury and in tribute to the late rock star, Google have created a unique animation in a world inspired by lyrics from his best known songs.
The 2-minute video sees Mercury in a number of iconic scenes from performing on stage in front of screaming fans to sitting on a throne wearing a crown and dressed as a woman.
Google released the fun and colourful video on what would have been the late icon's 65th birthday.
The doodle animation which is embedded into the Google logo is set to 1978 Queen hit 'Don't Stop Me Now'.
On the official Google Blog Queen guitarist Brian May made a tribute saying that his late friend's "presence seems more potent than ever"
May added: "He was wild and untutored, but massively charismatic. Soon, he began his evolution into a world-class vocal talent, right in front of our eyes."
Mercury was best known for his role in the band Queen, pumping out such classic hits as "We Will Rock You," "We Are The Champions" and "Bohemian Rhapsody."
Mercury endured a lengthy battle with HIV before his death in 1991 at the age of 45.
This is Google's second longest Doodle so far, after the 2 minute tribute to Charlie Chaplin.
Doodle designer Ryan Germick added: '[The video] has a lot of fun, goofy stuff to celebrate what an incredible song writer, fashion icon, and musical innovator he was.'
Google's doodle celebrating Freddie's birthday can be seen around the world on September 5 and, out of respect for Labor Day, in the U.S. on September 6.
See the doodle animation by Google below: