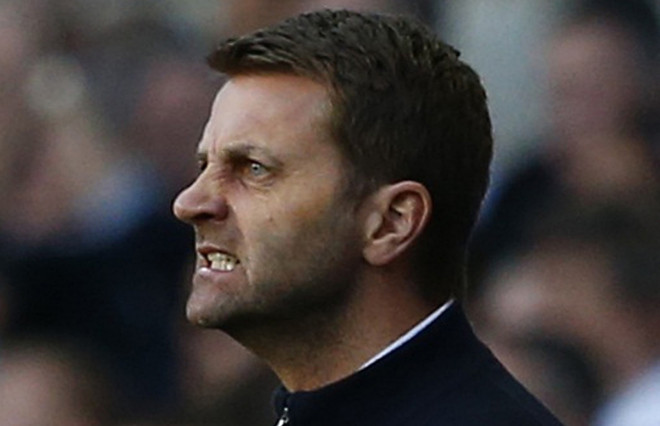 Tottenham Hotspur winger Aaron Lennon has denied rumours manager Tim Sherwood punched a Spurs player following the 4-0 defeat to Liverpool at Anfield.
Sherwood watched from the stands as the north London club suffered their ninth defeat during his three months in charge which sees the club eight points adrift of a Champions League place.
Netherlands coach Louis van Gaal is expected to replace Sherwood at the end of the season after former Chelsea and Newcastle United manager Ruud Gullit confirmed the 62 year old's switch to White Hart Lane was a "done deal".
In 22 games in charge of Tottenham since replacing Andre Villas-Boas last December, Sherwood has rarely hid his emotions on the touchline and rumours were abound on Twitter than the boss has lashed out at one of his players after the joint heaviest away loss of his spell in charge.
But Lennon, who was replaced after an hour by Andros Townsend during the defeat on Sunday, took to the social media website to quash the rumours which would have seen Sherwood in hot water with the Tottenham hierarchy.
"Today was not good enough and we let everyone down, but the rumours about the boss hitting someone are b******s,crazy how powerful twitter is.[sic]," Lennon wrote.
Though the rumours are as yet substantiated, Sherwood could face the sack for gross misconduct from Tottenham should it transpire the manager has assaulted one of own players.
Regardless of the truth of the incident, Sherwood's days at Tottenham appear to be numbered after a lacklustre display in the defeat to title-chasing Liverpool which saw Younes Kaboul's early own goal set the tone for the visitors.
Now the bookmakers' favourite to be the next Premier League manager to lose his job, Sherwood has regularly criticised his own players in public and took his Tottenham squad to task following the 4-0 defeat to Chelsea earlier this month.
"It is not good, obviously we have to put it right we have six games left - not against top-four teams, but we have to try and win those," he said on Sunday.
"But we have to look at it - we don't seem to have problem with teams outside, perhaps it is a belief thing but a lot of these teams are better than us and today Liverpool were better than us."