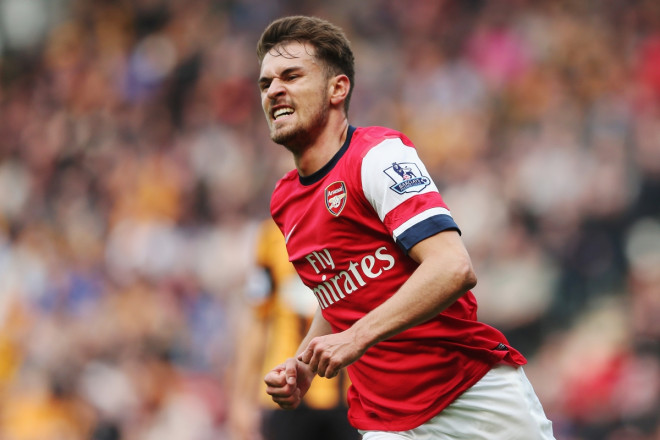 Arsenal midfielder Aaron Ramey has revealed that he may consider making a move to Real Madrid or Barcelona in the distant future.
The Welshman has been in brilliant form this season, scoring nine goals and assisting eight in only 21 appearances thus far in the league, until an injury at the end of December cut his season short.
Ramsey's absence had a major impact on the Gunners' title charge, as they withered away into oblivion without the midfielder's flair in the middle of the pitch to inspire them. The 23-year-old is now back fit and made his presence felt on his first start for the Gunners, scoring one and assisting two against Hull City.
Ramsey, whose stint at Arsenal was curtailed after he suffered a horrific injury at Stoke City, insists that he owes a lot to Arsenal and is not thinking of a move out of the club. However, he adds that a move to Spain at a later point in his career would not be a bad option, having seen his compatriot Gareth Bale flourishing for the Men in White.
"I have unfinished business at Arsenal first but maybe one day, when the time is right, I'd fancy that. One of those two teams is quite mouthwatering," Ramsey said.
The midfielder believes that winning the FA Cup against Hull would be a step in the right direction for Arsenal and give all the players in the dressing room a drive to achieve greater things in the future.
"We showed that with what we achieved to February, when we were top of the league until then. So we're close. Maybe we just need to win one thing to go on and be successful for five or 10 years," he explained.
"In terms of us players, hardly anyone has won anything in the dressing room, so that will just give us, hopefully – all being well and we do win the FA Cup – the hunger to realise what it is like to win a trophy and the feeling that you get afterwards, which will drive us on," he concluded.