Abandoned apartment complexes, deserted shopping centres and unfinished bridges are dotted along China's border with North Korea . These grandiose schemes are now desolate monuments to the worsening relationship between the two countries. This slowdown in economic ties became marked after North Korea's fourth nuclear test in January 2016 and a series of missile launches since then.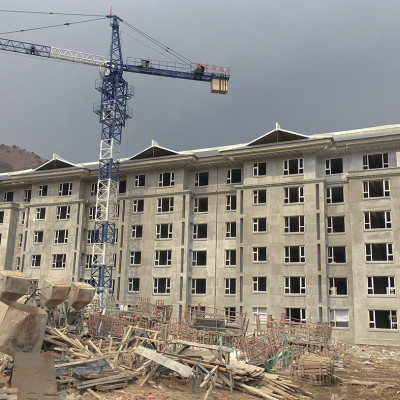 In the Northeast Asia Special Region straddling China's border with North Korea, the area around Nanping village is dotted with half-finished buildings, cranes on empty lots, piles of concrete pipes and a few construction workers. What was planned in 2011 as a 30 billion yuan (£3.5bn) development intended to showcase economic engagement between the two countries has stalled. No reasons have been given and no announcements have been made in official media.
The Northeast Asia Special Region was meant to feature golf courses, blueberry fields, horse riding, logistics hubs and trade in everything from timber to textiles. It was intended to connect China and North Korea via air, road and freight train routes, allowing both countries to export products to Japan, South Korea, the United States and Europe – an aspiration thwarted by tightening global sanctions over North Korea's nuclear and missile programmes.
One thousand North Korean workers were supposed to have started work last year, a number set to increase to 10,000 this year and 20,000 next year. But the dormitories for the workers are half-completed and the economic zone hasn't opened. A Reuters journalist who visited the area said: "I saw no North Korean workers, and everyone I spoke to in the area said that no one had come yet. And I was actually escorted off the site by police and military, who told me it was far too sensitive for me right now to even be reporting on something like an economic zone."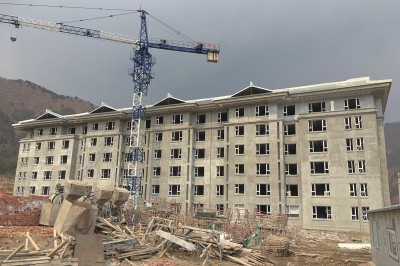 Beyond the unfinished buildings and total lack of North Korean workers, an all out ban on North Korean coal imports is another clear sign of China's increasingly tough stance on Pyongyang. Iron ore from Musan has also stopped coming in, said Li Zhonglin, director of the College of Economics and Management at Yanbian University. "Right now, all economic projects along the border have stalled because of rising tensions," he said.
Timber and other materials come in by truck from North Korea to Nanping over a concrete bridge. North Korea is clearly visible from Nanping – farmers using rudimentary ploughs, soldiers squatting by a simple outpost and antiquated trucks and buses sporadically rumbling by.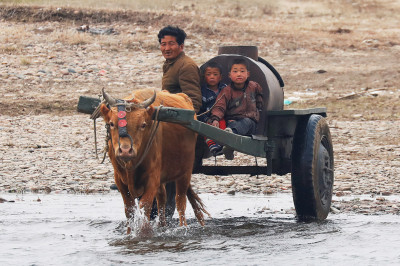 About 700 kilometres to the south, near the city of Dandong, the New Yalu River Bridge connecting the two countries is still unfinished. New sprawling development zones have cropped up, built on hopes that the North would eventually open up its economy to investment.
"If North Korea opened up, this would really do well to promote our piece (of land) here," said Zhang Liangliang, a real estate agent from Moon Island, a small island of modern high rises in the Yalu River just 680 metres away from the North Korean city of Sinuijiu. He told Reuters the apartments were completed in 2015 and two-thirds of them have been sold at around 9,000 yuan (£1,000) per square metre, but according to Zhang, few people have moved in.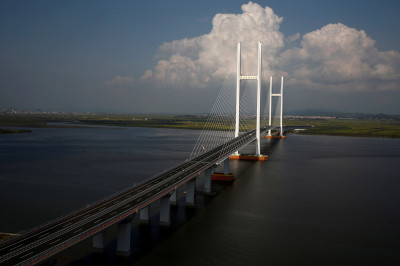 However, business isn't bad for those in the tourist industry. Curious Chinese people sometimes take ferries along the Yalu River to get a glimpse of life in North Korea and buy souvenirs such as North Korean currency notes.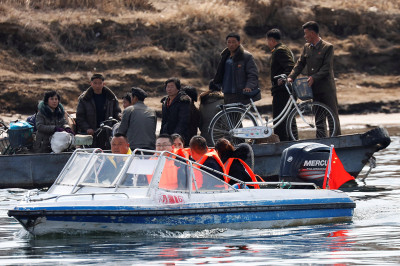 When asked about their isolated neighbours, Chinese visitors are not optimistic that life will improve for them. "There's nothing fun to do there, there's nothing to look forward to with a visit. It's just a poor country. There's nothing interesting about it. You read about it in the news every day and that's about it," 27 year-old Dandong resident Guan Chenfeng told Reuters.
China's relations with North Korea are expected to be high on the agenda when Chinese President Xi Jinping and US President Donald Trump hold their first summit meeting. Washington wants China to do more to rein in the unpredictable North's nuclear and missile programmes. China has taken steps to increase economic pressure on Pyongyang but has long been unwilling to do anything that may destabilise the North and send millions of refugees across their border.