Abu Dhabi Grand Prix 2015: Nico Rosberg wins third consecutive race to end season on a high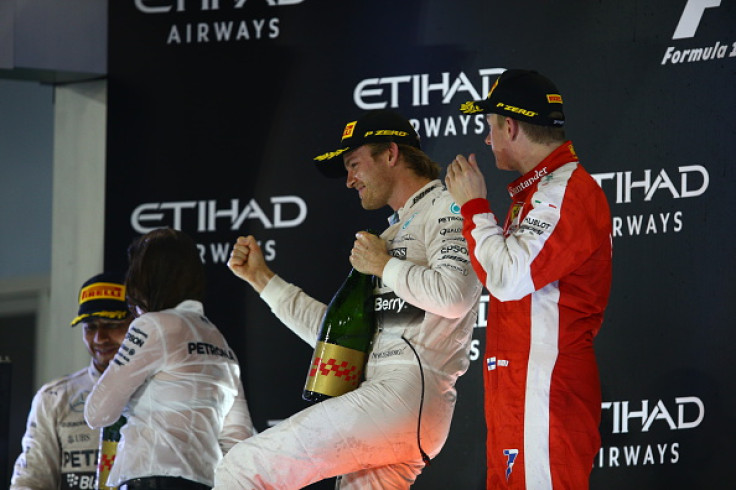 There was no real wheel-to-wheel racing at the front as Mercedes driver Nico Rosberg took his third consecutive win comfortably in the season ending Abu Dhabi Grand Prix at Yas Marina circuit. Lewis Hamilton was close to his teammate midway through the race, but a strategy change saw him lose out in the final stint and finish more than 7.7sec behind in second.
Ferrari driver Kimi Raikkonen took a credible third with an impressive driver, while teammate Sebastian Vettel put in one of the drives of the evening to make up 11 places and finish fourth. Sergio Perez rounded out the top five for Force India.
There were, however, a number of battles behind the race leaders between the Williams, Red Bull, Toro Rosso and Lotus. Daniel Ricciardo took sixth place Nico Hulkenberg, with Felipe Massa holding on to eighth ahead of, despite the Frenchman's last lap push after going on to the super soft tyres for his final stint.
Romain Grosjean, who was driving his final race for Lotus, was a contender for one of the drives of the evening for finishing ninth after starting in 17th place. Jenson Button enjoyed his racing in what was a difficult season for McLaren-Honda, and despite finishing outside the points; he got stuck in whenever an opportunity arose.
Mercedes have equalled the most races wins in a season by a team, as they completed a dominant 2015 season with a one-two finish. The strong end to the season with three race wins and six consecutive pole position will boost Rosberg's confidence going into the winter, following Hamilton's dominance for most of the campaign.
Apart from Mercedes' domination, there have been a few other revelations during the course of the 2015 F1 season. The re-emergence of Ferrari following a few difficult seasons, as Vettel settled down well with his new team with three race wins.
McLaren-Honda have a long winter ahead of them following a difficult return to the sport. And finally Max Verstappen, the teenage rookie has impressed one and all with his speed and skill in an F1 car. There will a lot expected off the Toro Rosso driver next season after an explosive debut campaign.
© Copyright IBTimes 2023. All rights reserved.