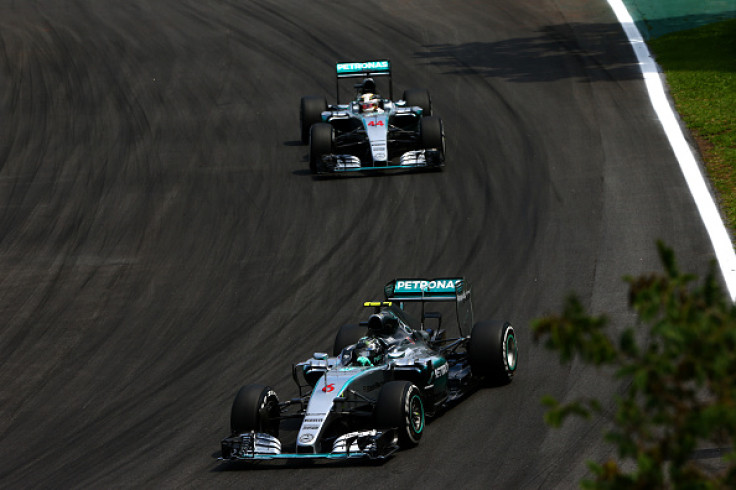 Mercedes driver Nico Rosberg has comfortably won the 2015 Brazilian Grand Prix at Interlagos on 15 November, Sunday. Lewis Hamilton has not won a race in Brazil and the world champion's wait continues as he is forced to settle for a second spot.
It was yet another one-two for Mercedes and they have been in fine form throughout the season. It is their 11th 0ne-two of this season. Rosberg was impressive in the practice and qualifying session as the German driver clinched his fifth pole of this year.
Another podium finish for Sebastian Vettel as Ferrari driver finished third in the Brazilian Grand Prix. His teammate Kimi Raikkonen manages fourth place with only two-stop strategy. Williams driver Valtteri Bottas moved from seventh to fifth in the first lap and he managed to maintain his position till the end of the race.
After the end of the first lap, the front five was Rosberg, Hamilton, Vettel, Raikkonen and Bottas. That did not change until the end of the race, barring during the pit stops. The British driver only managed to overtake his Mercedes teammate when Rosberg went into the pits.
Rosberg was the first one to take pit stop and he regained his first spot when Hamilton came out on the track. The latter had problems with his tyres just before the second pit stop. After that Hamilton started clocking faster laps and he managed to reduce the gap to just over a second.
However, Rosberg stepped up and made sure the gap extended as he finished the race with over 7.7s ahead of Hamilton. Vettel and Raikkonen finished third and fourth as it was two Mercedes ahead of two Ferrari's at Interlagos.
Meanwhile, a sixth place finish for Nico Hulkenberg means it is a fifth place finish for Force India in the constructors leaderboard. It is their best finish ever and they have created a history. It is a brilliant season for Force India.
Race result of the 2015 Brazilian Grand Prix:
1. Nico Rosberg (GER) Mercedes 1:31:09.090s
2. Lewis Hamilton (GBR) Mercedes +07.7s
3. Sebastian Vettel (GER) Ferrari +14.2s
4. Kimi Raikkonen (FIN) Ferrari +47.5s
5. Valtteri Bottas (FIN) Williams +1 lap
6. Nico Hulkenberg (GER) Force India +1 lap
7. Daniil Kvyat (RUS) Red Bull +1 lap
8. Felipe Massa (BRZ) Williams +1 lap
9 Romain Grosjean (FRA) Lotus +1 lap
10 Max Verstappen (NED) Toro Rosso +1 lap
11 Pastor Maldonado (VEN) Lotus +1 lap
12 Daniel Ricciardo (AUS) Red Bull +1 lap
13 Sergio Perez (MEX) Force India +1 lap
14. Felipe Nasr (BRZ) Sauber +1 lap
15. Jenson Button (GBR) McLaren +1 lap
16. Fernando Alonso (ESP) McLaren +1 lap
17. Marcus Ericsson (SWE) Sauber +2 lap
18. Will Stevens (GBR) Manor +4 laps
19. Alexander Rossi (USA) Manor +4 laps