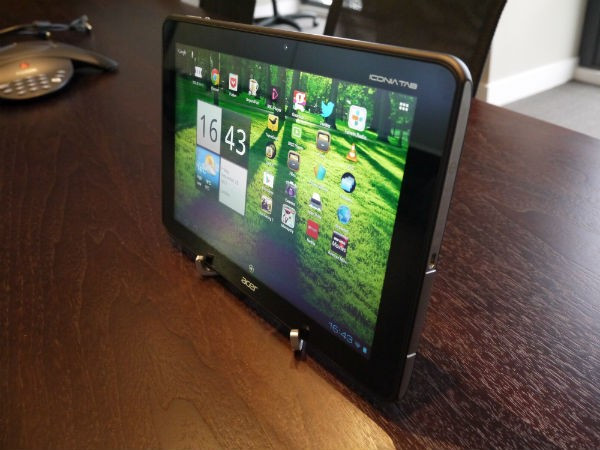 Key Features:
10.1in LCD display (1,920 x 1,200)
Android 4/0 (Ice Cream Sandwich)
1.3GHz quad-core processor with 1GB of RAM
665g
5 megapixel camera
Price as Reviewed: £330 (32GB)
Introduction
I first saw the Acer A700 though the popping lights of camera flashes at the CES trade show in Las Vegas last January. However at the time I was unable to touch what was being touted as the world's first Full HD tablet - having to make do with staring at it from afar while a booth babe showed it off seductively.
Ten months on and I'm finally getting to grips with Acer's top-of-the-line Android tablet. It is going up against the big boys in the tablet market, namely Samsung, Asus and Apple - though in reality this means just Apple.
The 9.7in iPad is all-dominant and any manufacturer launching a 10in tablet at around the same price is going to have to do something pretty special to make anyone buy its tablet over Apple's. Can Acer do anything to convince us to ignore the $700bn elephant in the room? Let's find out:
Acer A700: Design and feel
Like the vast majority of 10in Android tablets, the A700 is a rectangular slab of black glass, metal and soft-touch plastic. With the screen off, I would find it hard to pick it out of a line-up with other 10in Android tablets from the likes of Samsung, Asus or Sony.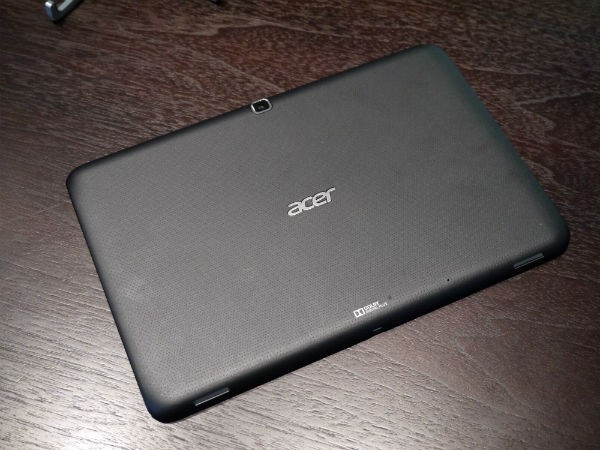 The one bit of design flare Acer has given the A700 is two silver bands along the left and right edges of the tablet. While nothing to get too excited about, the flash of silver does add a nice contrast to the oceans of black present everywhere else.
The tablet weighs a hefty 665g, which is even more than the iPad 3, which I struggled to hold in one hand long enough to watch the latest Hobbit trailer. The soft touch back is comfortable to hold, but there's not much grip to speak of and I found it slipping through my fingers at times.
The tablet measures 259 x 175mm which is longer and narrower than the iPad, but considering this tablet is designed to be used in landscape mode predominately and an aspect ratio of 16:9 compared to the iPad's 4:3, this is no surprise.
Where you really feel the difference is in the thickness of the tablet. The A700 is 11mm thick, and while that may sound like nothing, in terms of today's smartphones and tablets, the A700 is a candidate for The Biggest Loser (tablet edition).
As way of comparison, the iPad measures just 9.4mm, while the Samsung Galaxy Tab 2 10.1 is about the same, at 9.7mm.
While it's certainly not obese, the A700 would have benefited with a few millimetres and grams shaved off here and there.
Acer A700: Screen
Weigh and bulk aside, Acer is relying on the high-resolution display to win over those wavering tablet buyers. with a pixel resolution of 1,920 x 1,200, giving the A700 a pixel density of 224ppi, Acer's tablet is identical to the Asus Transformer Pad Infinity, purely in terms of pixel count.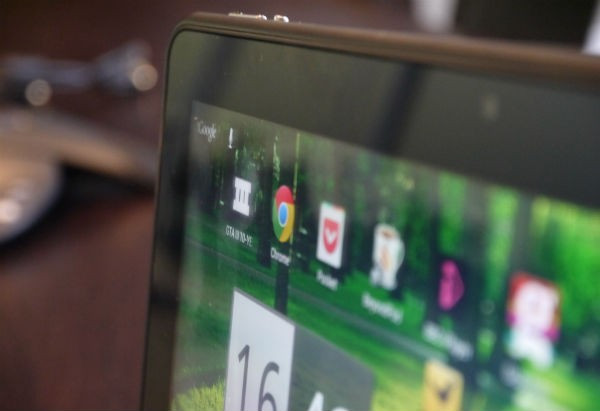 Holding the two side-by-side made it clear than both have exceptional screens, especially when pushed up to full brightness. However, as the Infinity Pad uses Super IPS+ technology, it can boost its brightness even more for outdoor viewing.
Colours and contrast are great with text and images appearing crisp and sharp thanks to that high pixel count, making web browsing and reading ebooks a real pleasure. While on specs alone it doesn't have as high a resolution as the iPad 3, the A700 screen is far better than most tablet displays you see these days.
Viewing angles are decent, though again they are not as good as the IPS+ display on the Transformer Pad Infinity. Acer's A700 certainly has one of the best screens on offer on any 10in tablet, but unfortunately for Acer, it's just slightly behind the screen on the iPad 3 and the Transformer Pad Infinity, lessening the impact of the A700's main selling point.
Acer A700: Connectivity
The A700 is essentially the company's mid-range A510 tablet but with a higher resolution screen and so you get all the ports and connections you got with the cheaper tablet.
Along with the microUSB port on the bottom for charging and data transfer, you also get a micro HDMI port for out-putting video and audio to a large screen TV.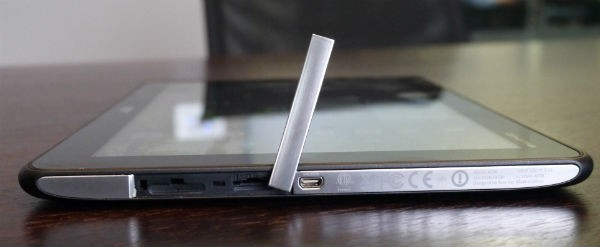 Under a flap on the right hand edge of the A700 you'll find a microSD card slot which accepts cards up to 32GB. Next to this is a redundant SIM card slot which will only be activated on the 3G-enabled, A701 model.
There is also a power button and headphone jack on the left-hand edge, as well as a volume rocker and screen lock slider on the top edge of the tablet.
The A700 features both front (VGA) and rear (5 megapixel) cameras, both of which function as they are supposed to. I think rear-facing cameras on a tablet should be banned, but it looks like they are here to stay (though Google has thankfully omitted one from its Nexus 7, which is a start).
In terms of wireless capabilities, the A700 features Wi-Fi N and Bluetooth, though it's the older 2.1 version.
Acer A700: Performance
As well as featuring the same chassis as the A510, Acer's A700 also uses an identical chipset, the Nvidia Tegra 3, which features a quad-core CPU clocked at 1.3GHz, along with a 12-core GPU.
This is all paired with 1GB of DDR2 RAM and while it is no slouch, up against its main competition, the A700 struggles a little bit. The tablet is available in models with 16GB/32GB/64GB of storage.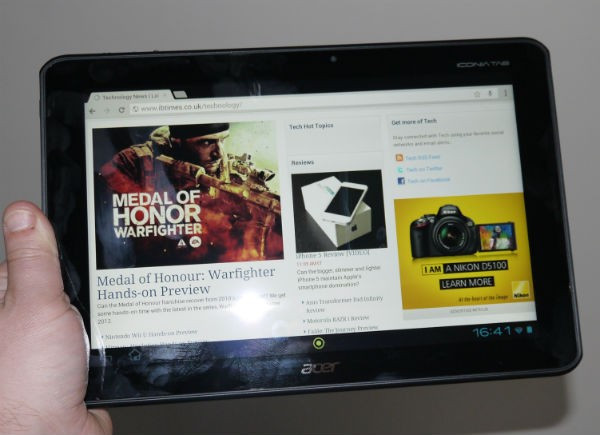 Even without comparing the A700 to any other tablet, it is clear that the system is struggling, with navigation ever-so-slightly jittery, where other tablets look smooth and seamless.
While gaming performance is decent, frame rates are not as we would expect from a Tegra 3 chip and they are significantly less than those achieved by the Transformer Pad Infinity running the same games. This is because the Asus tablet, which also uses the Tegra 3 chipset, has its processor clocked at 1.6GHz and uses the faster DDR3 RAM.
It's such a pity Acer didn't go that extra mile and put a better, faster and more powerful version of the Tegra 3 chip into its flagship tablet.
That said, I found video playback, even at 1080p, to be good and with VLC or DICE Player installed, I was able to while away many hours watching Bryan Cranston on Breaking Bad in all his glory (or his underpants depending on which episode it was).
In terms of battery life, the Tegra 3 chip certainly came in handy here, with the tablet giving up just over ten hours of video playback and slightly more in general use. I used it for blogging, watching video and tweeting during my 14 hours queuing up for the iPhone 5, and it held up remarkably well.
Acer A700: Software
The Acer A700 runs Android 4.0 (Ice Cream Sandwich), bringing with it all the good and bad things which this entails. Because only a small proportion of Android apps are tablet optimised, the superior resolution of the A700 is wasted on most, which is a real shame.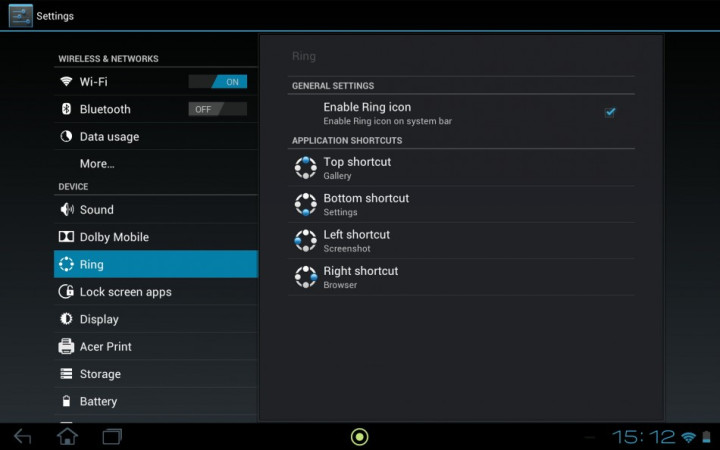 In terms of overall appearance, Acer has skinned the interface with its own UI tweaks. While not as intrusive as Samsung's TouchWiz, the changes are immediately noticeable.
The main addition is Acer Ring, which can be called up at any time using the launcher on the system bar. Acer Ring gives you quick access to recent website pages through a carousel on the left, as well as four customisable apps such as camera, screenshot or gallery - as well as the search app.
The system works well, though with the advent of the multi-tasking button present in all versions of Android, I'm not sure how many people will use Acer Ring.
As well as the tweaked UI, you get a number of pre-installed apps, including Acer Print (for wireless printing), clear.fi (for syncing photos, video and music through Acer Cloud); Acetrax Movies and Netflix for film and TV; and Monopoly for, well, buying hotels.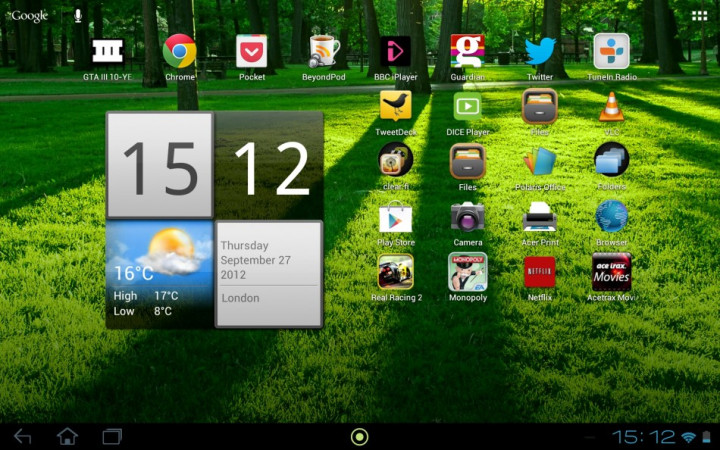 Overall the software experience is pretty close to native Android, which is a good thing or a bad thing depending on your view of Android, but for me, the closer to vanilla Android the better.
Acer A700: Verdict
Go on the Acer website and the 32GB version of the A700 will set you back £429. You would be mad to pay this when the iPad 3 is just £70 more, with its better screen; thinner and lighter body and an app ecosystem which takes full advantage of that great screen.
But a quick Google search reveals that the A700 since lauch has come right down in price to around £330. At this price I would begin to consider buying it.
With its super high resolution screen, solid build quality and decent Android interface, the A700 is a solid performer. If watching videos and browsing the web is what you want from a tablet, then the A700 will tick all the boxes.
It's uninspiring design, 665g weight and under-performing processor however, Acer has missed a trick. A little tweaking here and there and Acer could have had a winner on its hands, but as it is, the Acer A700 is an also-ran.
Scores
Overall: 8/10
Design: 7/10
Screen: 9/10
Performance: 8/10
Connectivity: 8/10
Value: 8/10
The Good
High resolution display
Solid build quality
Now costs just £330
The Bad
Very heavy
Uninspired design
Performance issues