Microsoft Studios' creative director Adam Orth is thought to have resigned from the company, following controversy over comments made on Twitter about the next generation Xbox needing to always be connected to the internet.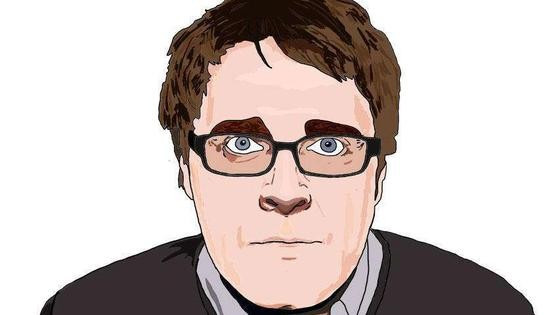 Crediting sources who "wish to remain anonymous", Game Informer has reported that Orth, who last year helped create Kinect Star Wars, left Microsoft after comments he made to Bioware designer Manveer Heir drew criticism from Xbox fans.
"Sorry, I don't get the drama around having an 'always-on' console. Every device is 'always-on'. It's the world we live in," tweeted Orth, adding the hashtag #dealwithit.
Must Read: Adam Orth was Right: We Need to Deal With Always-Online
Game Informer also reports that it is unclear whether Orth voluntarily resigned from Microsoft or was asked to resign. IBTimes UK has contacted Microsoft for more information but at the time of publication have not received a reply.
Always-online functionality has become a controversial subject in the game industry, particularly following the troubled launch of EA's Sim City, which required customers be connected to the internet to play but suffered severe server issues, locking millions of players out of the game.
Always-online also, potentially, means tighter digital rights management (DRM) blocking the usage of pirated games and games that have not been properly authenticated using a unique product key. Consumers are anxious about the possibility of an always-online next generation Xbox as it could indicate that the console is unable to play second hand games.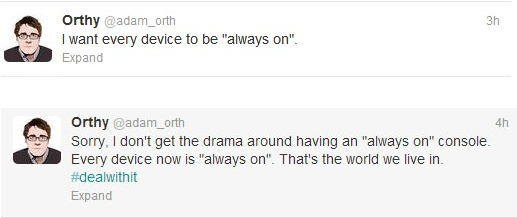 Following Orth's comments, Microsoft issued an official apology via the blog of Xbox Live community manager Larry Hryb, better known by his online gamertag 'Major Nelson':
"We apologise for the inappropriate comments made by an employee on Twitter yesterday," said the statement. "This person is not a spokesperson for Microsoft, and his personal views do not reflect the customer centric approach we take to our products or how we would communicate directly with our loyal consumers.
"We are very sorry if this offended anyone, however we have not made any announcements about our product roadmap, and have no further comment on this matter."
[Update] Microsoft has responded to IBTimes UK with the following statement: "We are not commenting further on this issue."
Must read: Following Adam Orth's resignation over comments about the next Xbox, launch titles for the new console, codenamed Durango, have been leaked.