Even those with a passing interest in modern English football culture surely cannot fail to have heard the name Adebayo Akinfenwa. Despite never playing above third-tier level, the hulking lower-league striker, who will be bidding to help Wycombe Wanderers record a sizable FA Cup shock against Tottenham Hotspur this weekend, boasts a profile to match that formidable 16-stone frame thanks chiefly to his equally big personality, dominant Fifa video game statistics and 'Beast Mode On' (BMO) mantra.
Released by Watford as a 17-year-old, a then speedy Akinfenwa endured an unusual start to his footballing career due to a former agent's martial ties to the Baltic state of Lithuania. As, he states, the first black player to ply his trade in the country, he endured racial abuse from the stands before going on to play in the Uefa Cup and netting the winner for FK Atlantas against FK Zalgiris during the 2001 Lithuanian Cup final. That latter achievement saw him "held up as a kind of miniature version of David Beckham in the city".
After a brief stint with Barry Town in which he won both the Welsh Cup and Welsh Premier League, London-born Akinfenwa then began his journeyman travels across the English lower leagues with quickfire spells at Boston United, Leyton Orient, Rushden and Diamonds and Doncaster Rovers.
He joined upwardly mobile Swansea City after Torquay United's relegation to the Conference and a rather bitter transfer wrangle eventually settled by a tribunal, combining with Lee Trundle and popping up with another winning goal in the 2006 Football League Trophy final.
Akinfenwa later suffered a broken leg and rejected a new contract at the Liberty Stadium before reuniting with former boss Kenny Jackett at Millwall on a month-to-month arrangement. The 34-year-old spent the next six years dovetailing between Northampton Town and Gillingham before turning down rival interest to link up with Neal Ardley at AFC Wimbledon.
'The beast' spent two years with the Dons, helping them to book a place in League One for the very first time by grabbing the ball from Callum Kennedy and notching a penalty in the 11th minute of second-half injury time during a 2-0 play-off final victory over Plymouth Argyle at Wembley Stadium in May 2016. Having already stolen the show with that late spot-kick, Akinfenwa dominated the post-match agenda by revealing just seconds after that win that he was to be released at the end of his deal.
"I think I'm technically unemployed so any managers, hit me up on the Whatsapp and get me a job," was the line that had many in stitches.
That unusual call was heeded by the unconventional Gareth Ainsworth and Wycombe, where Akinfenwa, who says he received interest from Australia, Mexico, Qatar and the USA, has since scored 10 goals in 31 appearances and is likely to get another crack at the League Two play-offs.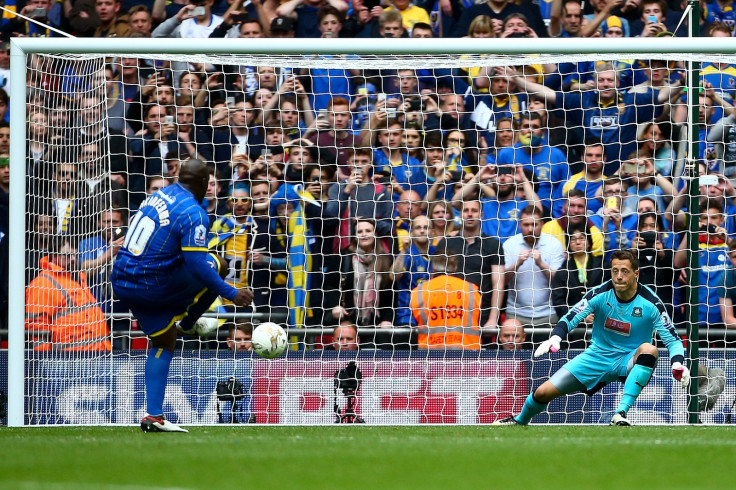 Why is a League Two player so popular?
Akinfenwa, a practising Christian, has scored 180 goals during a 15-year senior career encompassing 13 different clubs. Despite never appearing above lower-league level, however, his popularity and profile far transcend that of many Premier League footballers.
His size is obviously a major factor in this, with EA Sports affording him the status as Fifa's strongest player in 2014. Akinfenwa also owns his own clothing line – and also commendably promotes 'BMO' as a state of mind designed to encourage people to defy limitations imposed on them by others.
"People said I'm too big to play football," he previously told the BBC. "One hundred goals later, I'm not. There are no limitations to what you want to do."
How can Tottenham contain him?
Akinfenwa may fancy his chances at White Hart Lane against a likely much-changed Tottenham side missing three first-choice defenders. Jan Vertonghen is expected to be sidelined for a further month as he recovers from ankle ligament damage, while Toby Alderweireld and Danny Rose will not be risked due to respective minor knee issues.
When asked specifically during his pre-match press conference if Spurs had made any provisions to deal with Akinfenwa specifically, Mauricio Pochettino said: "No, nothing special. In the end you need to have some precautions with a player like him but I think in the Premier League you can meet different teams with different players like him. It's true that he's a good player, a strong player, big, but we need to be strong."
With three divisions and 70 places currently separating the sides before kick-off, Tottenham vs Wycombe will inevitably be billed as your typical David vs Goliath cup affair. But with Akinfenwa expected to spearhead the Chairboys' charge, it will very much be a case of Goliath vs Goliath.