Afghan officials claim over 90 Isis militants killed in MOAB strike
Achin district governor Esmail Shinwari said there were no civilian casualties in the bombing.
Afghan officials said on Saturday (15 April) that the US "Mother of all Bombs" (MOAB) dropped on an Isis base in Afghanistan's Nangarhar province has killed more than 90 militants. The death toll from Thursday's attack was initially put at 36.
The increased casualty figure emerged hours after the Isis denied any of its fighters were killed in the bombing. The incident marked the first use of the American military's largest non-nuclear bomb — the GBU-43/B — in any battle.
"At least 92 Daesh terrorists were killed in the bombing," Achin district governor Esmail Shinwari told Agence France Presse on Saturday, referring to the militant group with its Islamic acronym. Nangarhar provincial spokesman Attaullah Khogyani, however, said some 90 terrorists were killed. The Pentagon is yet to officially announce the death toll.
Meanwhile, the revised figure was reported after US-led forces conducted clean-up operations in the bombed area, according to the news agency.
Shinwari also confirmed there were no civilian casualties in the bombing, which targeted militant hideouts in the rugged terrains of the eastern Afghan province. The bomb was reportedly dropped as part of the US' ongoing anti-Isis operations in the Asian country.
Afghanistan President Ashraf Ghani said the action was taken in coordination with his military and added that the bombing was "designed to support the efforts of the Afghan National Security Forces (ANSF) and US forces conducting clearance operations in the region".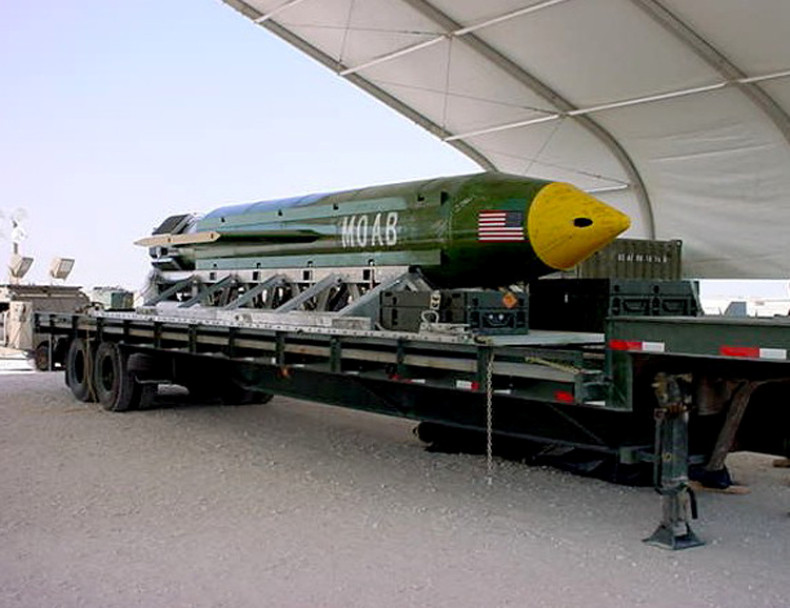 However, former Afghan president Hamiz Karzai condemned the attack, saying that the US was using their soil to test weapons.
"I vehemently and in strongest words condemn the dropping of the latest weapon, the largest non-nuclear #bomb, on Afghanistan by US," he tweeted soon after reports of the bombing emerged.
He argued that the US dropping a highly destructive non-nuclear bomb on Afghanistan is "not (about) the war on terror", rather it's about using the country "as (a) testing ground for new and dangerous weapons".