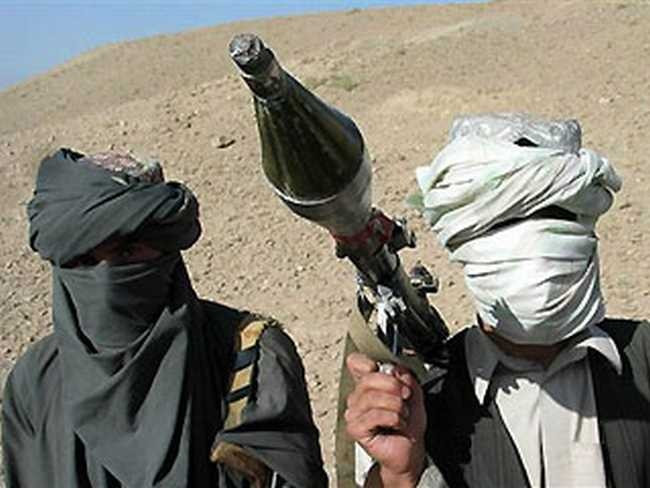 President Hamid Karzai of Afghanistan said publicly for the first time on Saturday that the United States and the Nato-led coalition have been actively negotiating with the Taliban, an assertion that was yesterday confirmed by US Defence Secretary Robert Gates.
Denying reports that his government was negotiating with Taliban leaders, Mr. Karzai insisted it was instead the Americans who were doing so.
"The negotiations have started with those people," he said, referring to the Taliban, "and God willing, these talks will continue. But foreign military forces and especially America are continuing this process."
On Saturday, and ahead of Mr Gates' interview, the American Embassy issued a vague statement.
"We have repeatedly said that we support an Afghan process of reconciliation, and that we would participate in that process," the statement reads, before adding said the United States would "help create conditions" for a political settlement, including "reconciling those insurgents who are willing to renounce Al Qaeda, forsake violence and adhere to the Afghan Constitution."
During his speech, Karzai directly attacked and criticised the coalition forces.
"You remember a few years ago I was saying thank you to the foreigners for their help; every minute we were thanking them," he said. "Now I have stopped saying that, except when Spanta forced me to say thank you," referring to his national security adviser, Rangin Spanta, who was present.
"They're here for their own purposes, for their own goals, and they're using our soil for that," Mr. Karzai said.
"This will have an impact on our country for 40 to 50 more years," Mr. Karzai said as he also complained of the environmental damage from coalition weapons.
"Every time when their planes fly it makes smoke," he said. "When they drop bombs, they have chemical materials in them. Our people get killed, but also our environment is damaged."
Some weapons used by the foreign forces have nuclear components, he said, adding that the issue was under investigation. He was apparently referring to certain types of ammunition and armour that use uranium or other radioactive materials, although he gave no specifics.
"There are 140 countries here in our country," he said. "They're using different explosive materials, chemical materials and all these things. We will talk to them and ask them about all these things, because this has a negative impact on our environment, our animals, our people, so we will ask them about this. They should not think we are uneducated and do not know anything."
Responding to the Afghan president's speech, US Ambassador Karl Eikenberry said, "Our pride is offended. When Americans, who are serving in your country at great cost - in terms of life and treasure - hear themselves compared with occupiers, told that they are only here to advance their own interest and likened to the brutal enemies of the Afghan people," the ambassador said, "my people, in turn, are filled with confusion and grow weary of our effort here."
Mr. Eikenberry however also acknowledged that American and NATO forces had made mistakes.
"Over the course of time here, our learning curve has been steep," he said. "That is because Afghanistan's political, social and economic situation is complex. We do not speak your language and are far from home. But in spite of our mistakes, we are good people whose aim is to help improve our mutual security."
As the US were asked to clearly state whether or not they were communicating with the Taliban, US Defense Secretary Robert Gates acknowledged that the country officials had begun preliminary talks with members of the Taliban as part of an effort to end the war in Afghanistan.
He however insisted that he did not believe the negotiations would produce any positive results unless the Taliban continued to feel military pressure through the end of the year.
Talking to CNN Gates cautioned that the talks were in such early stages and that officials were still uncertain the Taliban participants were genuine representatives of the Taliban leader Mullah Omar.
He said the effort was being carried out by American diplomats but did not directly involve the secretary of state, Hillary Clinton. And he said several other countries were participating, without specifically naming them.
"We have said all along that a political outcome is the way most of the wars end," Mr. Gates said. "The question is when and if they are ready to talk seriously."
Referring to his concerns about drawing down too many American troops this summer, he added, "Real reconciliation talks are not likely to be able to make substantive headway until at least this winter. I think the Taliban have to feel themselves under military pressure and begin to believe they can't win before they are willing to have a serious conversation."
However, he argued that it had been only in the last two years that the United States began committing sufficient resources to its fight there and made significant progress, pushing the Taliban out of its strongholds in Kandahar and Helmand, and killing the Al Qaeda leader Osama Bin Laden. Those gains could be lost, he said, if the United States were to withdraw its troops prematurely.
"I know the American people are tired of war," Mr. Gates said on CNN. "But, look, the reality is the United States had a very limited commitment in Afghanistan until well into 2008. And we did not have the right strategy and the right resources for this conflict, those needed to do the job, until the late summer of 2010."
It was time for the U.S to recognise that their invasion of Afghanistan did not bring about the drastic changes they said it would. More worryingly, aid agencies and analysts warn that Afghanistan is still in a state of war and that internal displacement, lack of access to essential health services and civilian casualties are set to rise in 2011.
"We are growing increasingly concerned about the conflict, which is into its ninth year. It's spreading and intensifying and we're [likely] to see another year of conflict with dramatic consequences for civilians," Reto Stocker, president of the International Committee of the Red Cross (ICRC) office in Afghanistan, said on 15 December.
Civilian deaths and injuries resulting from the conflict have continued to rise over the past two years and civilian communities have been forced to take sides in the war, the organization said.
"Mirwais Regional Hospital in Kandahar, serving around four million people, has admitted over 2,650 weapon-related patients so far in 2010, compared with just over 2,110 in 2009," the ICRC said.
When the US started their bombing campaign on Afghanistan on 7 October 2001, they made it clear that the Taliban were evil and dangerous and should not be in power. Ten years on and the discourse has changed. This time it is for the good of Afghanistan and its future that they have to be given a political voice. What will then be the next fix to avoid admitting defeat? That Gaddafi should stay in Libya because "political outcome is the way most of the wars end"?