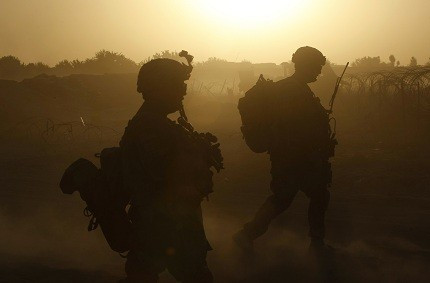 Afghan government officials on Thursday accused NATO of killing six civilians, including an 11-year-old girl, during a military operation targeting the Al-Qaeda-linked Haqqani network.
An anti-Nato demonstration broke out after bodies of the dead were carried through the eastern city of Khost and the provincial council announced it was going on strike in protest at the killing until a proper investigation was ordered.
NATO, on the other hand said its troops killed insurgents linked to the Haqqani network during gunfights in the area, but maintained that only one civilian was wounded.
"A teacher, a student, an 11-year-old girl and three other ordinary people were killed in the operation. They were civilians, innocent people," said Khost provincial spokesman Mubarez Zadar.
"The coalition forces were given the wrong information and based on wrong information, they carried out an operation," he said.
The provincial council said it had gone on strike in protest.
"We won't open until a thorough investigation into the incident," it said.
With the Taliban actively re-launching their anti-Western propaganda in the recent months, this new faux pas could end up having important consequences for both NATO and the Karzai regime.
Despite the Afghan government's new stance against the Alliance, many say they are both disillusioned and angry by the foreign U.S. and NATO intervention in the country. In the last decades, systematic attacks on civilians from insurgents have continued and very little progress has been made in terms of human rights.
The population has also recurrently accused the Karzai government of endemic corruption and nepotism, resulting in the leader having minimal popular support.
Civilian casualties have now become a contentious issue between US-led foreign forces and President Hamid Karzai who issued a "last warning" to the military in early June to avoid "arbitrary and unnecessary" operations that kill civilians.
On Thursday, the United Nations said the number of civilians killed in the Afghan war in the first half of 2011 was up 15 per cent, putting the year on track to be the deadliest in a decade.
A statement from NATO's International Security Assistance Force (ISAF) said it had reports of only one female civilian wounded during a battle with insurgents and that she had since been given medical treatment.
ISAF said six Haqqani fighters had been killed, including one armed woman.
"The security force was attacked by several armed insurgents while attempting to clear a compound near a coalition base in the district," it said.
The military said the fighters were killed in three subsequent firefights, all of which were triggered by insurgent gunfire.