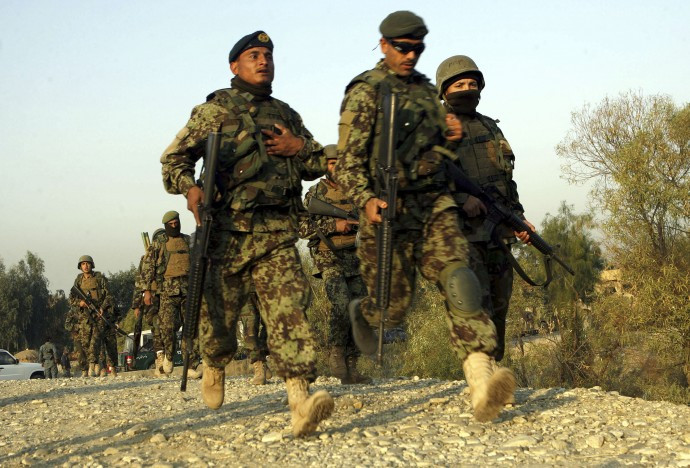 Five French soldiers and an Afghan civilian were killed on Wednesday in a suicide bomb attack, President Nicolas Sarkozy's office said, one day after he returned from a visit to Afghanistan.
Four soldiers and three local civilians were also "gravely wounded" in the attack on a unit protecting a meeting of a local tribal council in Joybar in eastern Afghanistan's Tagab valley, the statement said.
"A terrorist detonated his bomb close to the French soldiers," the Elysee said, condemning the "cowardly murder" and expressing France's determination to remain part of the NATO-led coalition fighting in Afghanistan.
The attack was the most deadly blow to French forces in Afghanistan since August 2008 when 10 soldiers were killed and 21 injured when a patrol was ambushed by Taliban guerrillas in Uzbin, in the Sarobi district east of Kabul.
A total of 69 French soldiers have died in Afghanistan since 2001, where France has deployed its troops to support the US-led campaign to overthrow the Taliban regime and hunt Al-Qaeda militants.
The news came at a bad time for Mr Sarkozy, who tried to defend the French involvement in Afghanistan despite a domestic public backlash.
It also raises serious questions about the U.S, U.K and French claims that key achievements made during the last ten years mean that the Taliban has been greatly weakened.
In the last few months, the Taliban have claimed responsibility for numerous attacks throughout the country. In June the insurgents' movement was also said to be responsible for a bomb attack on an Intercontinental hotel in Kabul, the Karzai regime's alleged stronghold.
Also Yesterday, Hamid Karzai's younger brother Ahmed Wali Karzai was shot dead by one of his bodyguards, who was subsequently also killed during the attack.
With foreign troops preparing their full withdrawal, the future of Afghanistan still appears uncertain to say the least.